Abdisalam Mohamud Shire: A Radio Journalist Out to Inform and Change Perceptions of People with Disabilities
Kismayo – Abdisalam Mohamud Shire is a presenter and journalist with Radio Kismaayo, in Somalia's southern Federal Member State of Jubaland. 
There, he presents a weekly, 30-minute radio programme called 'Rajo-side,' which loosely translates to 'instilling hope for people with disabilities.' It is subject matter which the 30-year-old Mr. Shire can relate to as he was born blind. 
His path to becoming a radio journalist presenting a popular programme was not an easy one, but it was one that he was determined to follow.
"Three things motivated me to pursue journalism, and to keep going even now. The first one is to change the public perception of people with special needs, that they are part of the community and have rights like any other citizen," Mr. Shire says.
"The second objective," he continues, "is to advocate for voiceless people in the community, those who are marginalized, and the third objective is to change misperceptions about my country, Somalia, which is often portrayed as one of the worst places despite it having made remarkable progress over the last decade or so."
According to a non-governmental organization, the Somali Disability Empowerment Network (SODEN), there are around 1.5 million people with disabilities in Somalia. They are often denied chances to work, go to school and participate fully in society with many barriers to their prosperity and wellbeing.  
Mr. Shire was born in 1991 in Bandar Jadiid village in Jamame District of Jubaland's Lower Juba region. With the civil war raging in Somalia, his family fled to Kenya in 1992, and ended up living in the Dadaab refugee camp, which became the world's largest camp for Somali refugees, located in north-eastern Kenya.
There, Mr. Shire attended primary school before completing his high school education in the city of Kisumu in western Kenya. It was while he was at high school that he developed a passion for journalism. He pursued a diploma in journalism at the Al-Imra College in Nairobi.
The young student was able to undertake his education with the use of Braille – a system of touch reading and writing for blind people in which raised dots represent the letters of the alphabet.
Upon completing his studies in Kenya in 2016, Mr. Shire returned to Somalia the following year through a United Nations-backed voluntary repatriation scheme, keen to follow his dreams of a career in journalism and helping people with special needs. 
"But upon returning home I couldn't secure a place in the local media industry. They weren't direct about it, but media organizations wouldn't give me a chance – obviously due to my disability – but I did not relent," he recalls.
While job-hunting, he met the Director of Radio Kismaayo, Hassan Nur, and pitched the idea of hosting a special programme tailored to suit the concerns of people living with disabilities, giving them a voice and helping them overcoming stigmatization.
"Initially, I had reservations on his idea of hosting a radio show but after seeing his determination and thoughtfulness, I felt the need to give Abdisalam a chance to try out the special programme he was talking about – it turned out to be an interesting radio series on Radio Kismaayo," says Mr. Hassan. 
On air
Mr. Shire aired his first programme in February 2019 and has been on the air every Thursday at 9:00 a.m. since then.
"At first I volunteered to produce and present the programme for a year, and this was due to an inner drive that propels me to carry out the advocacy that needs to be done," he says.
Subsequently, he was made a paid staff member of Radio Kismaayo. He still faces challenges in his work, mainly on the technical side as the broadcast studios lack equipment designed for blind people, but he perseveres nonetheless, making the most of special apps on his smartphone to help him with research for his broadcasts.
'Rajo-side' has an average audience of around 4,000 to 5,000 people per week. The topics covered include every aspect of life in Somalia which affects people with disabilities, ranging from changing public perceptions to practical steps on improving educational opportunities, as well as providing encouragement. 
"We often feature inspirational stories from people living with disabilities who have defied all odds," Mr. Shire says. "These stories give hope and courage, and help the wider society to come out and help change the status quo."
The programme also has a popular call-in segment in which problems are often shared, and advice and hope are given back. The young journalist recalls one call-in in which the listener recounted how she had lost her eyesight in an explosion, and was unsure of how to continue in life following this loss. 
"I advised her – this is not the end of her life, she can achieve things. After the show, I did a follow-up with her, and she really was positive, felt good and supported," Mr. Shire says, adding that radio has a special place in the lives of Somalis with disabilities. 
"Radio is not merely a medium through which they get a few hours of news and information. In fact, it's also a source of comfort and solace. It gives them encouragement and lets them know that they're not alone," he adds. 
His view is shared by the Jubaland Disability Association.
"The good work that Mr. Shire is doing for our community is much appreciated, the programme he runs contributes to the improvement of the wellbeing of persons with disabilities, he has truly showed his strong will in bringing the plight of people with disabilities into the limelight," says the association's chairperson, Abubakar Mohamed Rage.
Widest audience
According to the United Nations Educational, Scientific and Cultural Organization (UNESCO), radio is the mass media reaching the widest audience in the world. It is also recognized as a powerful communication tool and a low-cost medium which is specifically suited to reach remote communities and vulnerable people: communities with lower levels of literacy, persons with disabilities, women, youth and those facing poverty.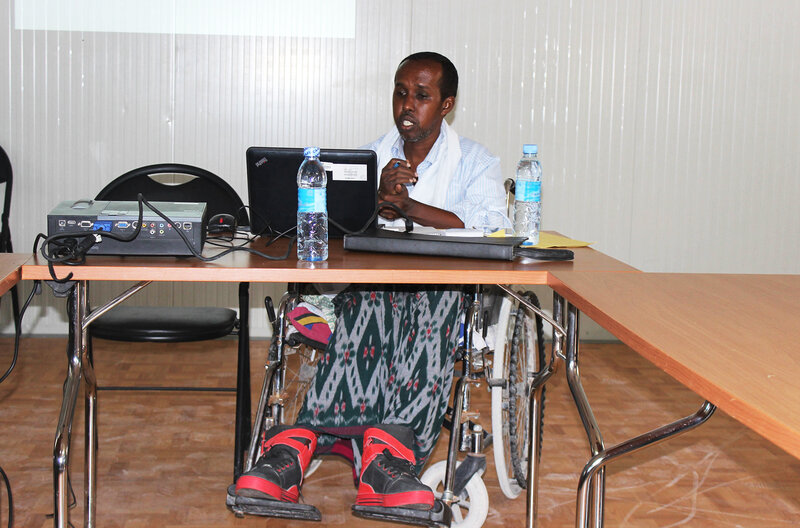 In Somalia's vibrant media sector, radio remains the most popular way for people to receive news and information, for both sedentary and nomadic groups. According to research by various United Nations offices and partners, it is used by four out of five Somalis to share news and opinions. 
The research indicated that people use radio to share information about opinions or reports on things affecting their communities, and that "in a society built on oral traditions these programmes play a critical role in the creation and expansion of social networks."
The UN General Assembly adopted 13 February as World Radio Day in 2012, with the aim of highlighting radio's role as a powerful medium for celebrating humanity in all its diversity and as a platform for democratic discourse.
The theme of this year's observance is 'New World, New Radio,' with it serving as an ode to the resilience of radio through three sub-themes: evolution, highlighting radio's resilience and sustainability; innovation, highlighting its adaptability to new technologies; and connection, highlighting its service to society during natural disasters, socio-economic crises, epidemics and other challenges.