Hundreds gather for Somalia's first-ever technology summit
Mogadishu - For some people, technology and its applications in modern-day society are not what comes to mind when thinking of Somalia.
Efforts are underway to change that.
In the country's capital, hundreds of people – from young entrepreneurs to potential investors – gathered this week for the first-ever Mogadishu Tech Summit, backed by local innovation hub iRise, the Federal Government of Somalia, the United Nations and other partners.
Participants at the gathering shared perspectives on how digital technological innovations can drive sustainable development, while sharing perspectives on various issues ranging from environmental conservation and overcoming challenges linked to climate change to developing smart cities and building community resilience in the face of challenges that come with urbanisation.
Addressing the three-day event at its closing on Thursday, a senior advisor in the Office of the Prime Minister, Abdiqani Jama, outlined how the federal government was in the process of formulating favourable policies and regulations to help nurture and encourage young entrepreneurs develop technologies suitable to the country's needs.
His comments were echoed by the Minister of State, Abdullahi Hamud: "Part of the commitment of the Office of the Prime Minister and the Prime Minister himself, to this city and Somalia in general, is to create an enabling environment that can attract investment, from global investors and make Somalia the final destination for tourists and investors."
Driving development, creating jobs
Participants at the Mogadishu Tech Summit emphasized the important role innovation hubs can play in driving development and technological transformation, with some discussions centred on ways in which more youth could be encouraged to join such centres.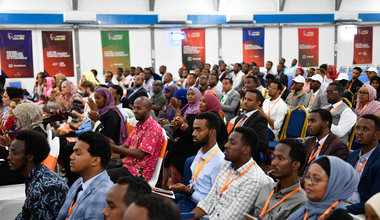 "A hub needs to first create a community, so it has to be a place where all different startups can interact with each other and create an environment where they can co-work together and bounce ideas off each other, while at the same time creating a space where investors can come together, meet and use the space or the hub as a funnel for portfolios," said a member of one of the summit's panel discussions, Esther Matte, a technology specialist based in the Kenyan capital of Nairobi.
"Our innovation hub provides different services like working space and mentoring programmes, and we build up youth to enable them work and create new ideas," said another panelist, Ahmed Abdulkadir, who operates Somali Innovation Hub.
Somalis under the age of 35 make up an estimated 70 per cent of the country's population. But statistics indicate that the country's high rate of unemployment is driving some to migrate illegally to foreign countries or turn towards radical politics and organizations. While much of the gathering's focus was on how technology and innovation can help the country rebuild after decades of armed conflict and instability, there was also focus on creating job opportunities for and through the efforts of tech developers and entrepreneurs.
Creating conducive environments
Representatives from UN agencies at the event underscored the importance of creating a conducive environment for young innovators who are keen on using technology to solve the social-economic problems facing their country, especially as advances in Somalia's technology sector have been driven by diaspora Somalis who have returned to the Horn of Africa country.
"This summit has given voice to the Somali diaspora by building bridges among the country and society – diaspora members are a natural development enabler," said the Programme Coordinator for the International Organization for Migration (IOM) in Somalia, Marc Boyd.
"In Somalia, particularly, we are helping youth to get into the employment process through innovative projects and incubation centers. We are using technology and other interventions," said an official with the UN Development Programme, Atul Shekhar, charged with aiding economic recovery efforts. "We are enabling youth to create opportunities for themselves."
The summit follows on from the launch last year of Somalia's first-ever technology innovation hub, iRise, which promotes collaboration between innovators and investors, while also offering resources needed by budding entrepreneurs and startups, such as business training, mentorship, project evaluation and support during the incubation stages of their projects.
"What the development agencies can do is that they can invest in social enterprises, startups that are solving social problems," said a co-founder of iRise, Awil Osman.
The United Nations has advocated for the role of technology in society, noting that in order to eradicate poverty and reorient current unsustainable development trajectories up until 2030, affordable technological solutions have to be developed and disseminated widely in the coming years.