Najah Aden Farah: A young author determined to create a reading culture in Somalia
Najah Aden Farah is 22-years-old and already a published author of four books.
But her love of books is not limited to writing them – it extends to helping her fellow Somalis improve their literacy, especially as many missed out on an education, including basic skills such as reading and writing, due to the country's civil war in the 1990s and ensuing conflict.
Najah penned her first book at the age of 17: 'Qaado Furaha Farxadda, 'loosely translated as 'Take the key of happiness.' 
"My first book was about finding happiness and regaining one's confidence after a bad experience. There are many people out there who have lost hope and self-esteem," she says. "This book is for them, because I experienced the same, at some point, due to certain reasons."
Born and bred in the northern city of Galkayo, Najah developed interest in books at an early age, while on an eight-month sojourn in neighbouring Kenya, in 2013, where she had gone to seek a Canadian visa to visit a cousin.
Though her plan to visit her cousin did not materialize, she came away with something else – a new perspective on the importance of education in personal development, stemming from her interaction with young female authors and women leaders in Kenya. 
"I met girls younger than me who were authors. I was also inspired by how hardworking Kenyan women are that they can even juggle household duties and college education," Najah notes. "It made me believe women are just as good as men."
"I was inspired while in Kenya and embarked on writing my first book in 2013," she adds. 
Najah also realised the advantages of being multilingual, especially for someone aspiring to be a published author-cum-education specialist, and undertook English- and Swahili-language studies. She returned to Somalia in early 2014, following numerous demands by her parents. 
Najah's first book was completed in 2015. But, being unknown to many of her countrymen and women, it recorded low sales, not helped by local oral storytelling traditions. 
Setting up a reading club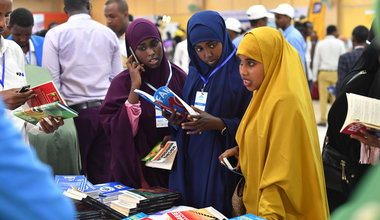 To overcome this challenge and, at the same time, encourage a reading and writing culture among youth, in 2017, along with three friends, Najah formed a reading club called 'Maskah Shiil,' (transl. 'Brainstorm').
In its first year of existence, 'Maskah Shiil,' which currently boasts a membership of 43 writers, has attracted large numbers of youth to its events, which are hosted in various location across the country, including Garowe, Adado, Galkayo and the capital, Mogadishu.
"We organise events every two months to encourage youth to seek education. For example, we do mini-book fairs, seminars and workshops where we also teach people how to read and write and also showcase some of our books," says Najah, who is currently studying at the Somali International University.
"Our goal is to improve literacy levels which are still very low compared to our neighbouring countries in the region," she adds.
According to the United Nations Educational, Scientific and Cultural Organisation (UNESCO), Somalia has one of the world's lowest enrolment rates for school-aged children. UNESCO estimates there are 4.4 million out-of-school children, almost half of the country's total of 9.2 million people. In terms of proportion only four out of 10 children are in school.
To help reverse the trend, Najah has written three more books on differing topics, which she plans to promote countrywide. 
While her first book was about her own experiences, her second, entitled 'Yaa I Dhalay' (transl. 'Who gave birth to me?') is about a boy living on the streets of Mogadishu and whom she had befriended.  Her third book, 'Rajada Ummadda' (transl. 'The Hope of Society') is centred on the public promises made by President Mohamed Abdullahi 'Farmaajo' following his election in February 2017, and deals with the mood of Somalis during that post-election period.
Najah's latest book is more topical for Somali youth. 'I lost my beauty' is about a dangerous trend among girls and boys to use lightening chemicals on their skins, and has resonated with many young people. 
"I try to come up with topics that will interest youth and, in the process, promote the culture of reading and writing," Najah says, adding that her latest book followed meeting a girl who had lost her eye-sight and another who had contracted skin cancer.
More than book sales
Najah's efforts to improve literacy levels in Somalia helped her land a job at the Somalia Academy of Science and Arts , where she works as a secretary in its administration department, while she  finishes her studies for a degree in public administration next year.
While some writers are motivated by the lure of writing a bestseller, she sees her calling as more to do with Somalis becoming literate and contributing to the development of the country, rather than book sales.
"I'm collaborating with a friend to set up a school to give street children an opportunity at education," says Najah, who also travels occasionally to various locations around the country to speak to youth groups on the importance of education.
As the world marks International Literacy Day – observed annually on 8 September and seen as an opportunity to highlight improvements in world literacy rates, and reflect on the world's remaining literacy challenges – the young author hopes other youth will join her in promoting education by embracing the culture of reading and writing. 
"International Literacy Day is important to me as a female writer and educator," she says, "since education is the key to a brighter future."