UNSOM supported the training of 60 Somali journalists on media coverage of women political participation
Mogadishu – A three-month virtual training workshops funded by the United Nations Assistance Mission in Somalia (UNSOM) and jointly facilitated by the Somali Women Journalists Organization (SWJO) and the Federation of Somali Journalists (FESOJ) concluded on 17 June.
During that period, sixty (60) journalists from Mogadishu, Puntland, South West, HirShabelle, Galmudug and Jubaland were trained. The majority of those trained were females – 60 per cent [that is 36 female journalists].
The training aimed to increase Somali journalists' skills in advocating and championing women's political participation and increasing media coverage for women candidates or political aspirants in the upcoming 2021 elections.
Furthermore, skilled and informed journalists are crucial for enhancing and strengthening the role of women's participation in politics and decision-making processes in Somalia.
"These training are about women's political participation and the role the media can play. Half of Somalia's population is women and the other half is what they have raised, so they are important within the community. The last thirty years, women have been the backbone of the Somali community but a limited number have participated in decision-making tables, that is why we decided to train the journalists to raise the awareness of women and increase their participation in politics," FESOJ Chairperson, Abadir Abdulkadir Elmi, said.
Media's responsibility
The media's role in advocating, effectively engaging and building media skills of women political contenders was also stressed.
Ms Hanifa Mohamed Ibrahim, Minister of Women and Human Rights Development, addressing the participants via Zoom, noted that during the 2016 elections the media played a vital role in securing the 24 per cent quota for women in parliament.
"The Somali media have played a huge part and supported women, and that is why we have achieved 24 per cent for women's representations in parliament. This time around, in 2021, we hope to achieve 30 per cent, and the role of the media is very important. The media contributes in many ways to the dissemination and awareness of women's work in society and their political participation," she said.
On her part, Farhia Mohamed Kheyre, SWJO Chairperson, stated that journalists' role in the campaigns of women's political participation has yielded tangible results.
"To advocate for women's political participation, we have agreed to employ the expertise of the journalists since they are the backbone of the community and are capable of using their influence to boost the advocacy campaign on political participation. Many women are willing to participate in politics, but unfortunately, they do not get good support from the community. We, therefore, want the media to play a key role in highlighting and promoting the role of women in politics," she said.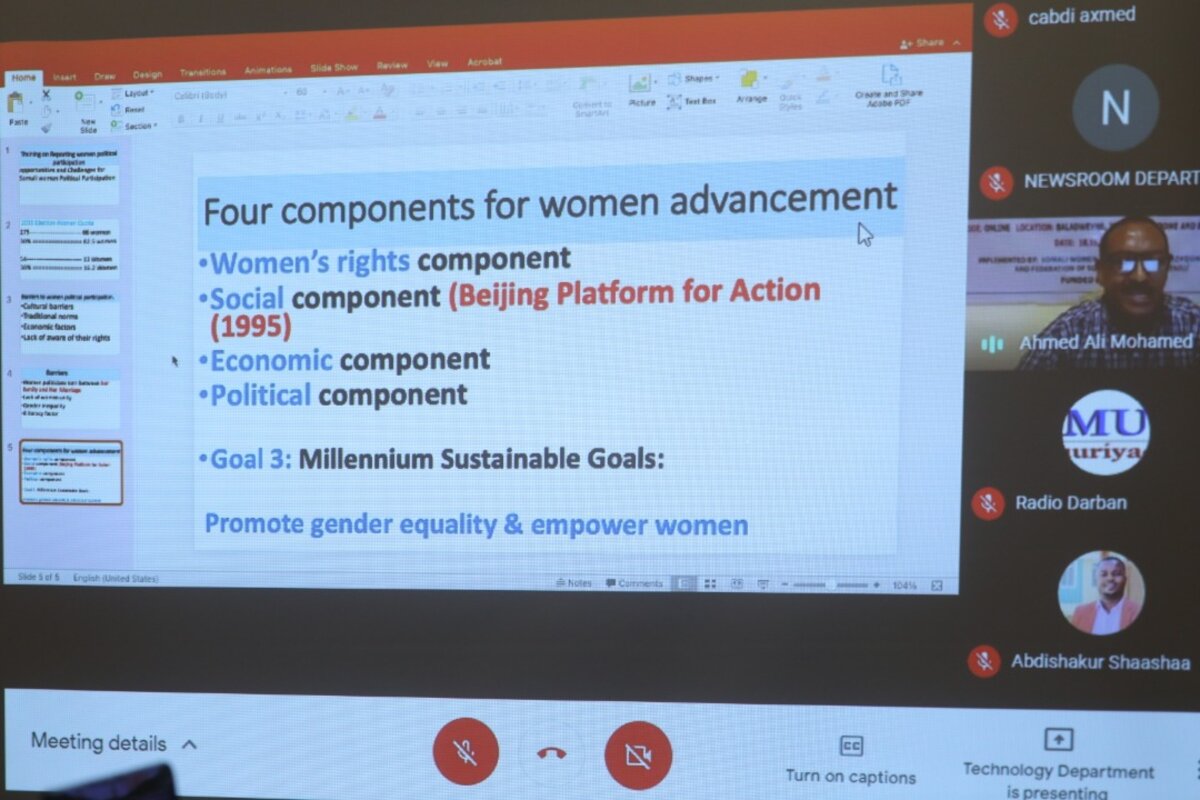 Participants' views
The main topics addressed during the virtual training session included the mechanics of writing, especially feature stories, long news articles, and opinion pieces, strengthening of structural and institutional reforms for women inclusion, ways of achieving full women political participation as well as barriers their political participation and women's role in good governance.
"Women political participants face challenges. Some have made progress. And those who face challenges – their challenges must be highlighted, so they can be resolved. Also, those who have worked for 20 years or over – their stories need to be told – so that it will be an example for other women who want to participate in politics,"  said Zamzam Mohamed, Reporter, Mustaqbal Media, Mogadishu.
"For example, during the training, it was agreed that media managers, editors and journalists have a vital role in creating these stories. And once these stories are made, they must be at the top of the news bulletin and transformed into special programs on women's political participation."
Participants praised the trainings as well.
"This was the first type of training I participated in on women's political participation and the role of the media in providing visibility to them.  We learned how to do reports, interviews, and round table discussions for women political participants during the training. And by using our journalistic skills to produce more women political participants," said Shukri Ismail, a reporter working Radio Warsan, Baidoa.
Echoing Shukri's sentiments, another participant, Abdullahi Sheikh Don, Reporter for SBC TV from Garowe, said that he would pass on the skills and knowledge he gained to his colleagues.
"For the last three days of the training, we benefited immensely. All that we have learnt we will take it back to society, Insha'Allah. For example, what I have learned is that the media should increase media coverage of women in politics and encourage their participation in politics," he noted.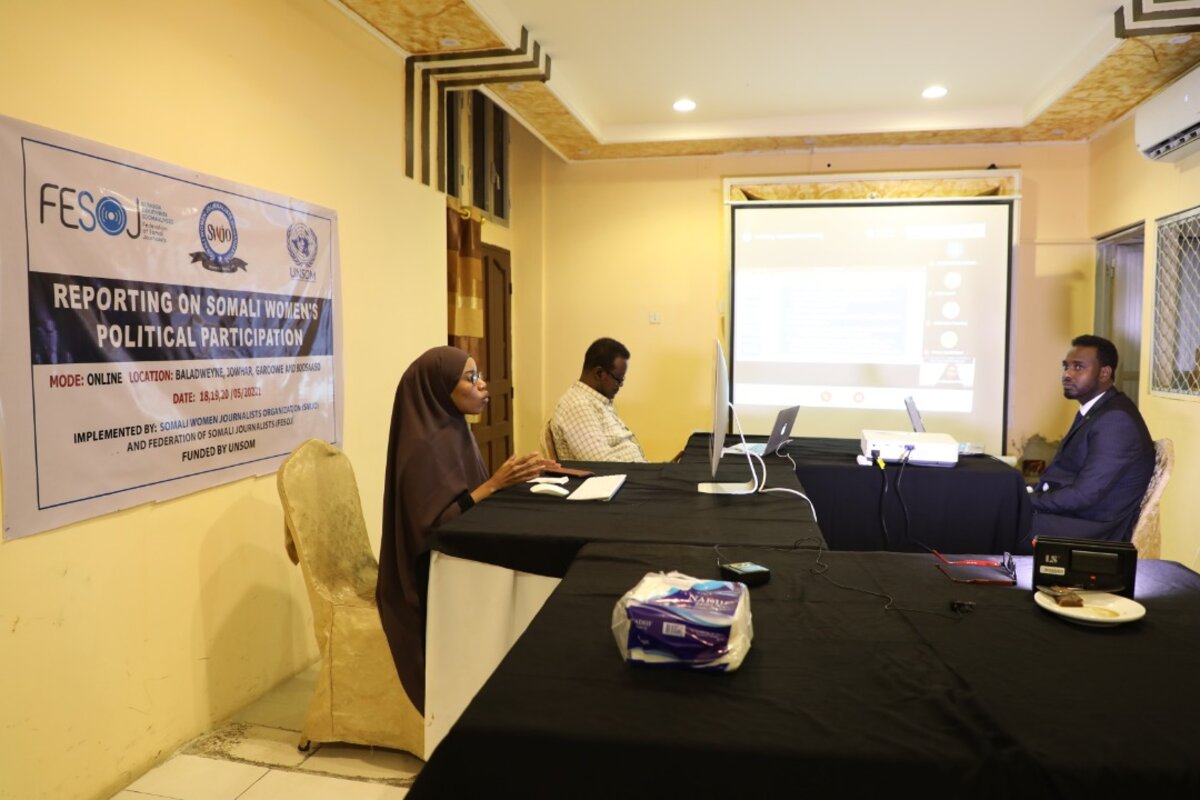 More trainings needed
Finally, the organisers thanked UNSOM and urged the participants to write more stories and give wider coverage to women political aspirants.
"One of the many things that were taught in these trainings was for Somali journalists to write more stories about women political participation. There was a need for this kind of training, whether it is for individual journalists or their media houses. We really thank UNSOM for supporting us, and in helping us in producing professional journalists capable of writing quality stories, especially those concerning women political participation," said Nasriin Mohamed Ibrahim, Deputy Chairperson SWJO.
UN supports
The Federal Government of Somalia (FGS) in partnership with the United Nations in Somalia, and other partners has developed initiatives to ensure that the 30 per cent quota for women is supported and fully implemented
In this regard, senior officials from the United Nations, AMISOM, EU and IGAD in Somalia have been meeting with the federal government and federal member states leaders and urged them to safeguard the women's minimum 30 per cent quota in the upcoming 2021 elections.