Abdiqani: Driven by a vocation to answer calls of distress in Mogadishu
In a city plagued with emergencies, it takes a unique combination of courage, determination and compassion to respond to a crisis call in the Somali capital of Mogadishu.
Despite the city's volatility, groups of volunteer workers walk the streets and alleys of Mogadishu day and night, ready to respond to calls for help amid life-threatening emergencies.
"Our work entails saving lives and property. It is the humane thing to do," says Abdiqani Mohamed Ahmed Dhaloole, the 30-year-old director of the Mogadishu municipality's fire department who heads a 90-member emergency services team.
A graduate of Mogadishu's Hope University with a degree in public administration, Abdiqani took over the helm of the Fire and Emergency Department of the Benadir Regional Administration last year. He immediately set himself the goal of enhancing the department's capability to handle the city's emergency needs.
"Our services are badly needed by the rapidly growing population in Mogadishu. Two things are important for a human being: life and property. These two must be protected," notes Abdiqani.
Existing demand for the services of the city's fire rescue team far outstrips their resources currently. Moreover, team members run risks every day to serve the city's estimated population of three million people.
"For you to save lives, you must first be safe. To save lives, the firefighters need insulated clothing complete with helmets, gloves, boots and breathing apparatus. This is to provide protection from the inherent risks that come with fighting fires," says Abdiqani.
The Galkacyo-born Abdiqani joined the city's Fire and Emergency Department in 2013 as its head of operations. He acknowledges that fire incidents in the city are on the rise and cause untold suffering to many residents. "On average, we respond to between 15 and 20 fire emergencies in a month," he states.
When he became the city's fire chief in 2017, Abdiqani took steps to restructure the department and introduce systems aimed at enhancing service delivery in the city. The move yielded positive changes, according to Abdiqani.
"We have been successful in conducting training for team members. We are now planning to open two more fire emergency centres this year to decentralise our services in the city," he adds.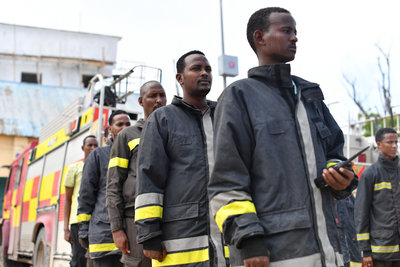 Founded in 2012, the fire and emergency service has found itself at the centre of a series of man-made calamities in the Somali capital. Team members sometimes work around the clock to rescue people buried under rubble from collapsed buildings brought down by explosions and provide survivors with life-saving emergency medical services.
While the security situation in Mogadishu has significantly improved in recent years, fires and other emergencies continue to occur. "Congested areas and big markets such as Bakara, Ba'aad and Hamarweyne are prone to fires. Fires in these areas have devastating consequences and sometimes destroy property worth millions of dollars," the fire department director explains.
Members of the fire and emergency team have been trained in fire suppression and rescue techniques and routinely work 72-hour-long shifts to cope with the city's needs. Equipped with a fleet of five fire trucks and two ambulances, the department has responded to at least 400 fires since the start of this year.
Recalling the tragic October 2017 bomb attack that killed over 500 people and injured hundreds of others, Abdiqani says the nature of emergencies in the city requires a resilient and dedicated workforce who can withstand the heart-wrenching scenes of death and destruction. "When confronted with such emergencies, you have the dual task of not only putting out the fire that is burning the victims, but also ensuring they stay alive," he adds.
The challenges facing his team are many, notably the absence of fire hydrants in the capital. "Fire hydrants are critical to be able to supplement our own water supply," says Abdiqani. "Currently we are forced to return to the station miles away to get more water. But the fire will not wait for you."
Despite the challenges, Abdiqani has ambitious plans for the city's fire department as he seeks to enhance further the unit's effectiveness. These plans include working with the Benadir Regional Administration to understand the needs of Mogadishu's residents and serve them better.