On first visit to Hirshabelle, new UN Special Representative reaffirms world body's support
Jowhar – Kicking off her initial round of meetings with the leaders of Somalia's Federal Member States, the new top United Nations official in the country visited Hirshabelle today to discuss a range of issues with its leadership and reaffirm the world body's support.
"It is with great pleasure that I make my first trip outside of Mogadishu here to Hirshabelle – Mr. President, this is the first of many visits I will do to Hirshabelle, and I am looking forward to a very constructive partnership with you and with your team as we work to achieve your aspiration for a peaceful, prosperous, secure Hirshabelle," the UN Secretary-General's Special Representative for Somalia, Catriona Laing, said.
The UN official had been speaking at a joint media encounter with Hirshabelle's President Ali Abdullahi Hussein 'Gudlawe,' with whom she and her delegation had met earlier, along with the president's advisors and cabinet members.
Those accompanying her included George Conway, the UN Secretary-General's Deputy Special Representative for Somalia, who also serves as the UN Resident Coordinator and Humanitarian Coordinator for Somalia.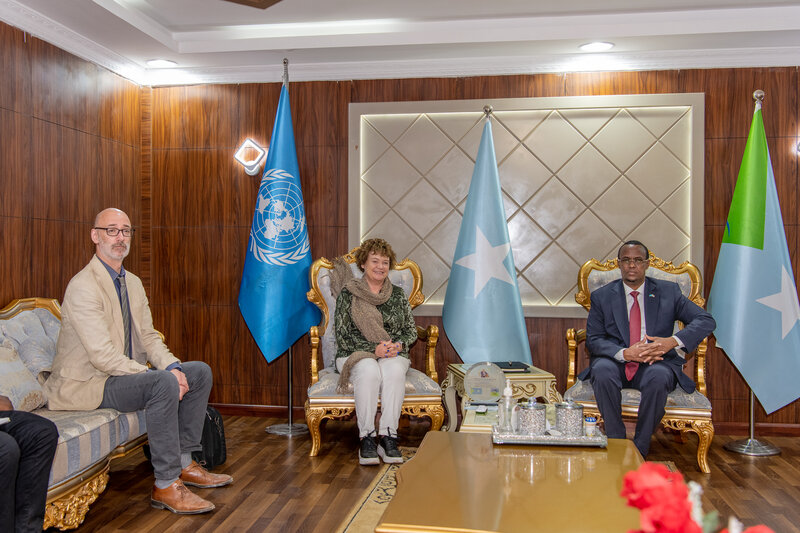 In her remarks to the media, the UN Special Representative said she and the president covered topics such as Hirshabelle's humanitarian needs, its security situation and national matters.
According to the UN Office for the Coordination of Humanitarian Affairs (OCHA), flooding in May left a trail of destruction in parts of the Federal Member State, inundating homes and farmland, washing away livestock, temporarily closing schools and health facilities, and damaging roads. In addition, thousands of people were forced to abandon their homes and move to higher ground.
"In my discussions with the president, we focused in particular on the recent flooding crisis that you are facing, and committed the full support of the UN's country programmes and agencies to come behind the very good efforts of the government to try and ensure that the immediate needs are met, but just as importantly, that we invest in long-term flood defences and so on to ensure there are sustainable solutions," Ms. Laing said.
On security matters, recent government efforts against the terrorist group Al-Shabaab figured prominently.
"The president updated me on the very effective campaign against Al-Shabaab, the reclaiming of much of the territory, and we talked about the importance of stabilising those areas, coming in with a whole-of-government, holistic approach," Ms. Laing said. "The UN is very committed to supporting that."
The UN Special Representative also welcomed the Hirshabelle leader's "strong engagement" on national affairs, such as with the country's constitutional review process and state-building efforts.
"I commended him for his outreach and commitment to support that wider state-building process at the national level as well as here, within his own [Federal Member] State with the establishment of district councils," Ms. Laing said. "We agreed on the importance of an inclusive approach, a transparent approach, as we reach out to all stakeholders to build consensus."
While in Jowhar, the UN Special Representative also met with the commander of peacekeepers serving with the African Union Transition Mission in Somalia (ATMIS), as well as UN staff based there.
Ms. Laing was appointed to her position in May this year and arrived in Somalia earlier this week. Soon after landing in Mogadishu, she met with Somalia's President Hassan Sheikh Mohamud and Prime Minister Hamza Abdi Barre. In addition to serving in various roles in the government of the United Kingdom, Ms. Laing also served with the UN's development arm from 1993 to 1994.