As floods recede around Belet Weyne, need for durable solutions to climate change-related events highlighted
Belet Weyne – With flood-waters receding around Belet Weyne, residents are trying to return to normal life – but it is no easy task.
"Our situation is dire: our livelihoods have been destroyed, our children need support, our food supplies are meagre," said a mother of nine, Maryan Mohamed Jimale. "Getting food is a problem. This is as a result of the raging floods that hit our homes."
The local resident was speaking this past weekend at a camp for internally displaced persons at Ceel-Jaale, located about five kilometres from Belet Weyne town. She and her family are among many taking shelter and receiving aid at the camp, run by local non-governmental organisations with the support of United Nations humanitarian agencies and the Federal Government of Somalia.
Mrs. Jimale's plight was echoed by the Governor of Hiraan region, which encompasses Belet Weyne. Ali Muhumad Arale called for more help to enable affected communities put in place long-term solutions to address the growing frequency of climate-related hazards such as the recent flooding.
"We need durable solutions for a water flow protection project; we need that water to be redirected away from us – we need a project that will address the problem of flooding once and for all," Governor Arale said.
The Belet Weyne area experienced severe flooding in late October, when the Shabelle River burst its banks due to heavy rains.
The situation left some 570,000 people flood-affected and, of these, more than 350,000 people have so far received assistance. The flood waters have receded, allowing 80,000 displaced people in Belet Weyne town – around 40 per cent of 240,000 displaced town residents – to return home.
However, many of those who have been able to return to their residences are coping with the effects of the flooding, including washed-away homes, roads and bridges. In addition, the rains have inundated 207,000 hectares of land along the nearby Shabelle and Juba rivers, raising concerns about food security and livelihood losses.
According to Governor Ali, immediate needs to address include the provision of emergency clean water, food aid and relocating the region's airport.
"The other important issue is the damaged roads, which were destroyed by the floods," the governor added. "The town has no roads; they were totally destroyed. The roads linking the farms have been destroyed, including the bridges, and we need to have them restored."
Increasing vulnerability
On a visit to affected areas this past weekend, a UN official noted that Somalia is increasingly vulnerable to climate change, with climate-related events – mainly drought and flooding – having increased in frequency and intensity throughout the country, exacerbating humanitarian needs and undermining community resilience.
"These rapid shifts between droughts and floods indicate just how sensitive Somalia is to this sort of issue," UN spokesperson Ari Gaitanis said. "At the same time you must keep in mind the fact that these communities are already on the edge in terms of decades of poverty and conflict, so having something like this can easily push them over the edge, going from an already bad situation to a much worse situation."
Since 1990, Somalia has experienced 30 climate-related hazards; 12 droughts and 18 floods – tripling the number of climate-related hazards experienced between 1970 and 1990.
In 2017, a severe drought left Somalia on the verge of famine. In 2019, a delayed and erratic 2019 Gu' rainy season resulted in the poorest harvest since the 2011 famine and flooding.
$47.5 million needed
On 23 November, the United Nations and the Somali authorities launched a three-month $72.5 million Flood Response Plan to mobilise additional resources. Around a third of that has been made available, but $47.5 million is still required.
The United Nations is working closely with local authorities and partners to determine and meet the most urgent needs of Somalis affected by the flooding. The world body is dispatching emergency supplies and providing life-saving services through partners on the ground.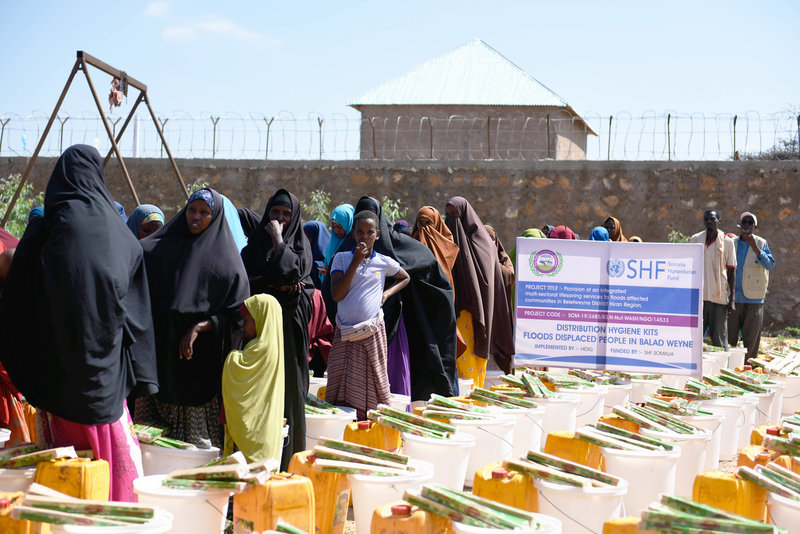 In addition, with the floods having receded and the situation entering the recovery phase, UN agencies are also helping to identify and support local residents with issues such as malnutrition, as well as risks posed by the outbreak of diseases such as acute water diarrhea and cholera, as well as malnutrition. For example, the UN Children's Fund (UNICEF) has distributed 61,000 hygiene kits to improve access to safe water and prevent waterborne diseases – the kits have gone to 61,000 households, reaching around 366,000 people – as well as dispatched supplies to treat people for acute watery diarrhea.
Mr. Gaitanis said the climate-related shocks also highlight the importance of supporting the Federal Government's recovery and resilience framework which is central to efforts to break the cycle of recurring humanitarian crises in the country.
"In addition to pushing for lifesaving help for people in this region and other parts as well, we (the United Nations) are also looking to help get more support for long-term, durable solutions to help Somalia avoid this sort of problem in future as well," the UN official said, noting that such solutions can help stimulate long-term development and address the underlying causes of Somalia's crises.
To achieve this, the UN and its partners are working to ensure that emergency and development assistance complement each other, in line with the Federal Government's National Development Plan to achieve long-term recovery and resilience.