Key role of Somali youth in peace efforts highlighted in meeting with head of UN peacebuilding
Mogadishu, 15 September 2019 – Somali youth representatives were recently told of the importance that the United Nations attaches to young people's role in national peacebuilding initiatives, and how political inclusion can enhance this.
The members of the United Nations Somalia - Youth Advisory Board were hearing from one of the world body's senior officials, the Assistant Secretary-General for Peacebuilding Support, Oscar Fernandez-Taranco, who was in the Horn of Africa country to see first-hand the linkage between humanitarian, peacebuilding and development efforts.
"The fact that you have been selected to represent the wider constituency, reflects very much the spirit of how the United Nations, the Secretary-General's envoy to Somalia and his team can benefit from your wisdom, your engagement and your opinions about what the UN is doing and could do much better," Mr. Fernandez-Taranco said at their meeting.
The UN official added that in a country like Somalia – where approximately 80 per cent of the population are young, where youth unemployment is high, and where drought and conflict have fuelled displacement and rapid urbanization – they had a unique opportunity to shape the delivery of youth programmes.
The Youth Advisory Board was recently established following an open nomination process. It is made up of 18 young people, nine women and nine men from across the country, and was created to advise the UN system on youth issues in Somalia. The Board aims to strengthen the UN's engagement with young Somalis and their involvement in political processes and peacebuilding initiatives as part of the world body's Youth, Peace and Security Agenda. The Agenda is tied to the UN Security Council's Resolution 2250, which was adopted in 2015 and emphasizes the importance of youth as agents of change in the maintenance and promotion of peace and security.
Also present at the meeting was the Secretary-General's Special Representative, James Swan.
UN benefits from youth
In his remarks, Mr. Fernandez-Taranco told the board members that the UN was interested in "benefitting from the knowledge that you have from your communities and the regions that you are coming from, your experience as professionals or as community organizers."
During their meeting, the youths raised a wide range of views and recommendations related to policy and programing in education, women's empowerment, people with disabilities and peacebuilding, among others.
Board member Shaima Sallal Mohamed, founder of Golden Girls Sports Centre, an organization that fights against gender-based violence and promotes the education of young women and girls through sports activities, said that being a member of the Youth Advisory Board allowed her to be a voice for other young people in Somalia.
Another board member, Jamila Mohamed Hassan from South West State, highlighted how women can participate in peacebuilding, noting that "women are community leaders and they can significantly contribute to the attainment of peace."
The need to have a quota for youth representation in Parliament as a way of including young people in the country's decision-making processes was also one of the key points discussed.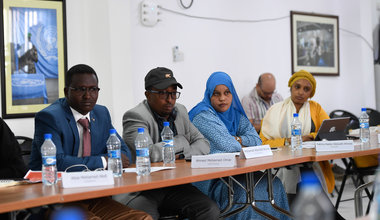 For his part, Mr. Swan told the participants that it was important that UN thinking, programming and decisions are informed by consulting with youth and hearing their thoughts.
"We hope that through the Youth Advisory Board we can have a better understanding of what the youth throughout the country are thinking and what they believe we should understand," he said.