In Kismayo, UN delegation discusses support for Jubaland and welcomes elections developments
Kismayo – The United Nations' support to Jubaland in areas ranging from primary health and wellbeing to economic empowerment and protection of the most vulnerable were among the topics covered today by a high-level delegation to the southern Federal Member State.
"We're very pleased to be in Kismayo today. It is the latest in our visits to the Federal Member States at the beginning of 2021. We have come to discuss with the President and his team the work of the United Nations in support of Jubaland in 2021 and beyond," the UN Secretary-General's Special Representative for Somalia, James Swan, said in media remarks in Jubaland's interim capital, Kismayo.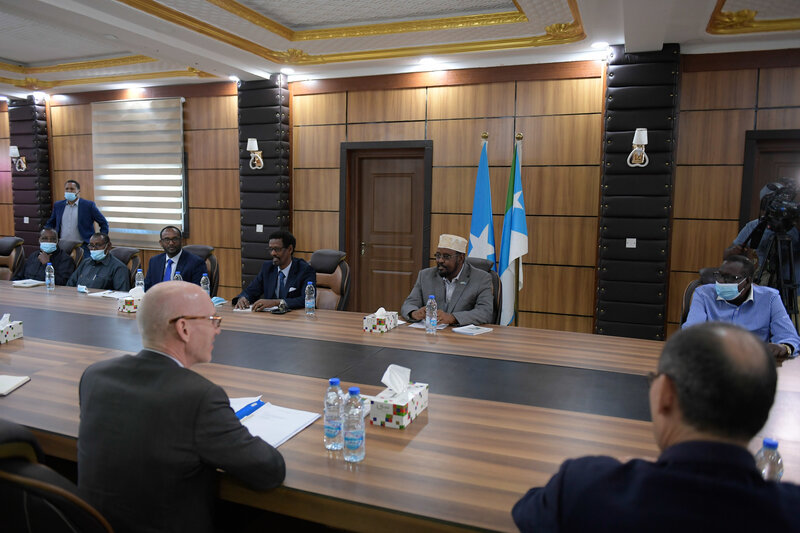 The UN envoy was speaking at a joint press encounter with the Federal Member State's (FMS) President Ahmed Mohamed Islam 'Madobe,' with whom he had met earlier. Prior to that, the UN envoy and representatives from various UN agencies had met with the Jubaland leader and members of his team.
The other visiting UN officials included the Country Director of the UN World Food Programme (WFP), Cesar Arroyo; the Representative to Somalia of the Office of the UN High Commissioner for Refugees (UNHCR), Johann Siffointe; the Representative of the World Health Organization (WHO), Dr. Mamunur Rahman Malik; and from the UN Food and Agriculture Organization (FAO), the Fisheries Coordinator for Somalia, Andrew Read.
Wide-ranging support
Currently, there are 15 UN entities operating in Jubaland. In his remarks, the UN Special Representative spoke about some of their work.
WFP has been working to strengthen the long-term resilience of local communities against drought, flood and other shocks. This development work includes livelihoods, food systems and safety net programmes, and these efforts build on the food aid agency's well-established humanitarian portfolio in Jubaland. It supports more than 400,000 food insecure people with urgent food relief, nutrition programmes and school meals, and with a particular focus on the nutrition of mothers and young children.
"Another example of the World Food Programme's work here, right here in Kismayo, is the rehabilitation of Kismayo port. The World Food Programme has removed the sunken wrecks of two ships that have long impeded access through the seaway," Mr. Swan said.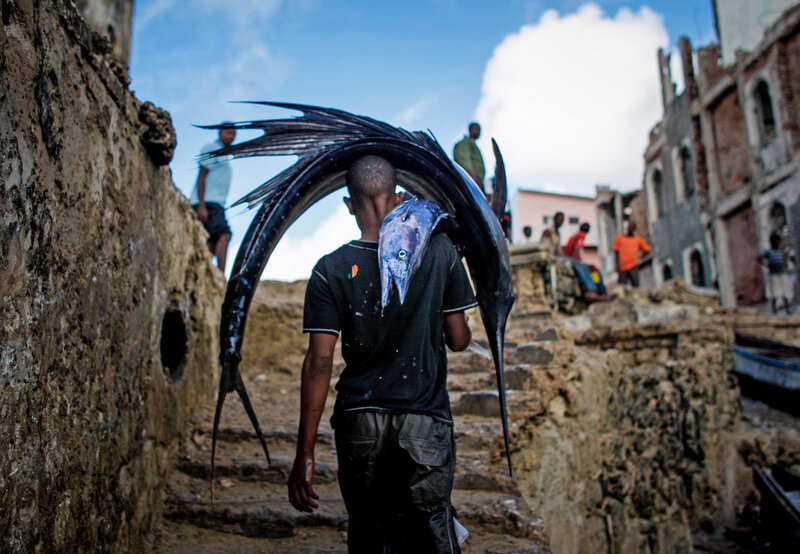 "Clearing those wrecks," he added, "will enable humanitarian logistics services through the port, but also offers a significant opportunity to improve port services for Jubaland's economy."
WHO has been working closely with Jubaland's Ministry of Health, as well as federal-level counterparts, to ensure that the people of Jubaland have better access to health care.
In addition to supporting the Federal Member State with its response to COVID-19 pandemic, the UN health agency has also helped with mass immunization campaigns in recent months.
"These include three polio campaigns to reach around 300,000 children in 11 accessible districts," Mr. Swan said. "And, in October last year, the World Health Organization also conducted a measles immunization campaign here in Kismayo, a hotspot for measles, vaccinating more than 56,000 children against the disease."
FAO has supported the development of Jubaland's fishing industry, both in Kismayo, and further south, stretching from the Bajuni Islands as far as Raskamboni. This includes helping with the design and building of 16 new fishing vessels and the provision of modern fishing gear, along with full training.
"FAO has further provided renewable energy-powered ice machines and fridge freezers, which have allowed catch quality to be improved, reducing the spoilage of fish, increasing prices, and further contributing to food security in Jubaland," Mr. Swan said.
UNHCR supports returnees, internally displaced people and host communities across Jubaland. In 2020, this included construction of more than 1,000 housing units and other infrastructure for returning refugees, as well as support for flood-affected households. The UN refugee agency also supports more than 28,000 students to enhance enrolment and retention, especially for girls.
"Again, these are just some examples – but they give a sense of the scope of UN family support, and that's what we hope to build on as we listen to what Jubaland's authorities are seeking for the future and what they expect from the United Nations, and we look forward to that close partnership," Mr. Swan said.
During the visit, the officials from WFP, UNHCR, WHO and FAO met separately with various Jubaland ministers and officials to discuss specific aspects of each UN entity's support.
Political discussions
Somalia's political situation in Somalia also figured in the discussions between the UN Special Representative and the President of Jubaland – particularly the country's national elections. 
In his media remarks, the UN envoy noted that the world body was one of many of Somalia's partners which welcomed the announcement late last week by Jubaland – along with the northern Federal Member State of Puntland – of the nomination of their State-level Electoral Implementation Teams, and also welcomed an announcement made on Saturday by President Mohamed Abdullahi Mohamed 'Farmaajo' on a meeting of the National Consultative Forum with FMS leaders in the city of Dhusamareb on 1-3 February.
"We commend the President's initiative in convening this meeting and urge constructive participation by FGS [Federal Government of Somalia] and FMS leaders, in a spirit of compromise, to reach agreement together on rapid implementation of the 17 September electoral model," Mr. Swan said.
As part of those discussions, the UN envoy said, it is important to find compromise on administrative and security arrangements in Garbaharrey, the capital of Jubaland's Gedo region, to ensure the electoral process proceeds under the terms of the agreement reached by FGS and FMS leaders on 17 September last year on an electoral model, and its implementation, for Somalia's elections.
"We hope that there can be progress in these discussions and urge that such efforts continue," Mr. Swan said.
The UN Special Representative and the Jubaland leader also discussed armed clashes in and around the town of Belet Hawo, in the Gedo region, on 25 January, which reportedly left many civilians, including children, dead and wounded. Mr. Swan expressed his condolences to the families of the victims.
"I stressed that this a time for restraint and de-escalation of the situation, and that that approach should guide all sides involved in these recent clashes," he added.
The UN delegation's visit to Jubaland was the fifth one to a Federal Member State this month, with the aim being to consult Federal Member State leaders on the world body's support. Previous delegations, led by the UN Special Representative, have visited South West State, Galmudug, Puntland and Hirshabelle.