Maryan Abdulle Hassan, a courageous voice against female genital mutilation in Somalia
Maryan Abdulle Hassan is a young woman on a mission: putting an end to female genital mutilation (FGM) in Somalia.
"This has no place in our religion – it is an outdated tradition that goes against the rights of our girls, and threatens their lives and well-being," says the 26-year-old university student.
A native of Belet Weyne, she has become widely known locally in her town for her activism against the practice of FGM, which involves the partial or total removal of female genitalia or other injury to female genital organs.
The UN Population Fund (UNFPA) says Somalia has the world's highest prevalence of FGM, with an estimated 98 per cent of all women and girls between the ages of 15 and 49 having been subjected to the procedure. FGM can have severe adverse effects on the physical, mental and psychosocial health of those who undergo the practice, with consequences that are both immediate and life-long.
Appalled by the practice, which is a human rights violation, Maryan and a few friends decided to act – in 2015, they co-founded the Anti Fir'onic Circumcision Organization.
"Our main aim is to raise awareness on the dangers this causes and educate the public on its consequences within the community," she says.
Changing mindsets on this issue will be no easy task. Despite many internationally recognized laws against FGM, its lack of validation in Islam and widespread advocacy to eradicate the practice, it remains embedded in Somali culture, according to the UN Children's Fund (UNICEF).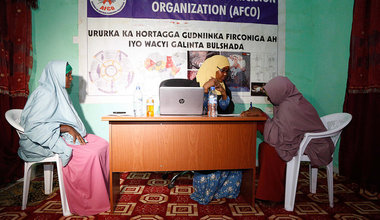 Maryam and her colleagues have encountered hostility from some members of the local community, particularly during the first six months of the organization's existence, with many denouncing its activities and resisting its message.
"We have been blamed for going against the local culture, and others have even threatened and disrupted our campaigns," she says. "However, this never stopped us from speaking out against the crime."
Maryam's activism has influenced her decision to study public health at Mogadishu's Jobkey University.
"I enrolled with a wish to improve the conditions and behaviour that affect the health of my people," she says.
Working with governments, and often in close collaboration with grass-roots community organizations, the United Nations -- through UNICEF and UNFPA – is lobbying actively for the elimination of FGM.
Over 200 million girls and women worldwide have experienced FGM. According to the two UN agencies, in 25 countries where FGM is routinely practiced and data are available, an estimated 68 million girls will be cut between 2015 and 2030 unless concerted and accelerated action is taken.
The advocacy efforts of Maryam and her colleagues are starting to yield results. Thanks to the campaigns she has led at a district level and in rural areas of Hiiraan, she notes, individuals who were initially resistant are beginning to accept the message. In addition, the establishment of a telephone hotline for girls and women facing the threat of FGM has provided a vital source of counselling and information.
"We receive at least three calls a day, some seeking advice and support for victims, while others call to seek help for those at risk," Maryan says.
Owing to the young ages of most FGM victims, schools are a major focus of the Anti Fir'onic Circumcision Organization's campaigns. The group holds regular meetings with parent-teacher associations to educate members about the dangers of this practice, while also using the opportunity to highlight important areas of girls' development that transcend the FGM issue.
"I take advantage of the FGM campaign to also advocate for the education rights of young girls," Maryan says, adding that her organization's efforts have helped to keep at least 35 girls in school.
The campaign has also persuaded some female circumcisers to abandon their practice and seek alternative sources of livelihood.
"We managed to create alternative job opportunities for twelve circumcisers," she says. "Some joined the local markets and sell groceries while others do small businesses in towns."
Maryan knows she still has a long way to go before FGM is eradicated in Somalia. But she is encouraged by the progress made to date and vows to press the fight against its use.
"I can say that I have reached a certain target, that I have at least reduced the perception of community towards female cutting," she says. "I have convinced some popular circumcisers in the region to abandon it and work towards the well-being of the girls."