Overcoming financial hardship and bullet wounds to report the news – a Somali journalist's story
Baidoa – Muhiyadin Husni's life story reads like a profile in courage that has unfolded against the backdrop of Somalia's turbulent history in recent years. And like so many of his compatriots, he has overcome many obstacles, both financial and security, to achieve his long-held goals.
In early 2012, the Baidoa native was working in Mogadishu as a news editor at one of Somalia's main broadcasters, Radio Shabelle. Life was good – Somalia was making tangible progress in the fight against al-Shabaab, especially in the capital where the militant group had been driven out of neighbourhoods formerly under its control, and there were signs of progress in the economy and civil life. With a young family and held in high regard at his work, Muhiyadin had every reason to look forward to the future.
An encounter on the evening of 23 March 2012 changed that. While walking home, he was approached by two men. They were brandishing handguns and threatened him.
Muhiyadin promptly grabbed the arm of one gunman to deflect his line of fire, but it was not enough. While doing so, the other gunman pumped a bullet into the journalist, seriously wounding him in the abdomen. Both assailants fled into the night.
"Eighteen other journalists who were working for Shabelle Radio were killed before my attack," he says. "I was always in a state of high vigilance and all my eyes and ears were open."
In a critical condition, the journalist was evacuated to the Kenyan capital of Nairobi for urgent medical help.
The gunmen were never identified, but Muhiyadin suspects they were al-Shabaab militants who had infiltrated the capital to wage a campaign of intimidation against journalists.
Nonetheless, the violent attack did not deter the father of five from resuming his profession when he returned to Somalia in 2013 after more than a year of medical treatment.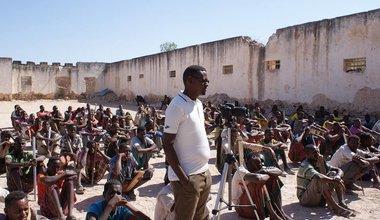 The 31-year-old journalist now works as the chief news editor at the Baidoa-based Warsan Radio station. He is also active in advocacy work for the Somali news media as vice-president of the National Union of Somali Journalists (NUSOJ) and chairperson of the South West Journalists Association (SOWEJA).
He traces his inspiration to become a journalist to his days as a high school student when he listened to broadcasts of Baidoa radio stations and the BBC's Somali-language service. But obtaining a degree in journalism proved to be a complicated matter: there was no university in Baidoa with a journalism faculty, and financial constraints ruled out a move to Mogadishu to pursue studies in the capital. 
"I bought my own blackboard and chalk to study the profession with other students, and a local journalist taught us mass communication at night," he recalls.
To acquire practical experience, he joined the staff of a local radio station called Democratic Media Concern as a volunteer in 2004. He was hired two years later as a staff reporter at the station, which had been renamed Warsan Radio.
Muhiyadin started filing stories to the Mogadishu-based Radio Shabelle station in 2008 as a correspondent in Somalia's Bay and Bakool regions. Al-Shabaab militants captured Baidoa a year later and seized the office and equipment of Warsan Radio, forcing him to flee his hometown and move to Mogadishu. He continued working for Radio Shabelle until the attack that nearly cost him his life.
Following his return from Kenya, Muhiyadin has attended a series of training courses, including some backed by the UN Assistance Mission in Somalia (UNSOM), which he credits for advancing his professional development. He also founded SOWEJA to promote press freedom in Somalia's South West state.
"We faced limitations, but we also developed a strong relationship with the state ministry of information and regional security officials," he notes.   
His efforts have paid off. NUSOJ recently awarded a certificate of appreciation to the South West state Ministry of Information for promoting a safer environment for local journalists during 2017 – no journalists were killed in the line of duty in the state last year, and no incidents of harassment and arbitrary detention by South West state security forces were recorded in the national journalists union's annual report. 
The UN Educational, Scientific and Cultural Organization (UNESCO) is the world body's agency charged with defending freedom of expression and press freedom. It gives special attention to the safety of journalists and combating impunity of crimes and abuses against them, and calls for media systems that are free, pluralistic and independent if press freedom and freedom of expression are to be upheld. According to the Committee for the Protection of Journalists, an independent, nonprofit organization that promotes press freedom, Somalia has the world's worst track record for investigating the murders of journalists and prosecuting their killers.
Muhiyadin is now focusing his advocacy work on Somalia's 2016 media law and amendments to the law that were approved by the federal government cabinet last July. These include provisions that require a journalist to comply with a judicial order to divulge the identity of confidential sources, establish criteria that journalists must fulfill to practice their profession, and authorize the federal information ministry and a nine-person media council to develop a code of ethics.
"We have had meetings with the South West state ministry of information to contribute our points of views regarding the media law," he says. "We hope our ideas will be considered and become a durable solution for all media practitioners."