Photo Story: A day in the life of UN Envoy Michael Keating
The UN Secretary-General's Special Representatives are constantly on the go.
Charged with leading the world body's efforts in locations around the globe – often in countries dealing with the impact of conflict, along with political and humanitarian challenges – their daily agendas are typically crammed with a range of activities.
And it's no different for Michael Keating, the top UN official in Somalia.
Check out this snapshot of a recent day at work for this UN envoy:
WEDNESDAY, 17 JANUARY 2018
07:30 a.m. – Wednesday morning finds Michael Keating rising early for a UN flight out of Mogadishu, heading north to 'Somaliland.' Accompanied by a small delegation made up of advisors and security officers, he's scheduled to meet with its leadership to discuss a range of issues. While based in the Somali capital, the UN envoy strives to regularly visit all parts of this Horn of Africa country to engage with local officials and UN staff, and see for himself the situation on the ground.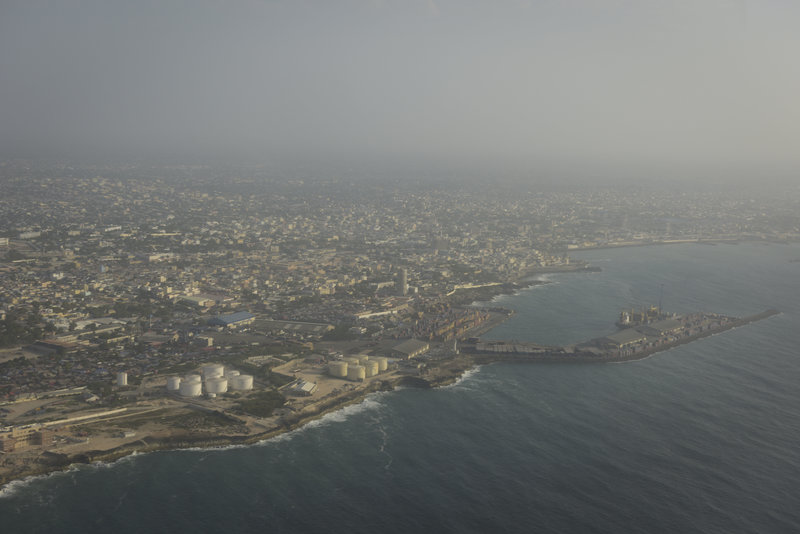 08:30 a.m.– Whereas for many people, time spent in an airplane is a time to read, listen to music or catch up on sleep, that's far from the case for Mr. Keating, as the workload for Special Representatives tends to be on the heavy side. His time onboard is spent poring over documents and reports related to 'Somaliland' and Somalia in preparation for his day.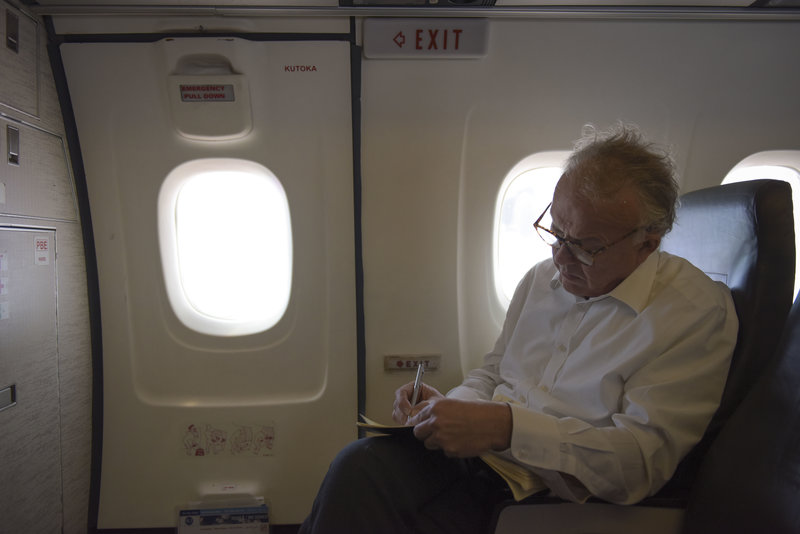 08:45 a.m. – The coastline with the Indian Ocean soon fades into the distance, and the dry, rugged interior that encompasses so much of the Horn of Africa comes into view. Given the region's semi-arid and arid climate, droughts are not uncommon. Currently, while rains have started in the Horn, several consecutive seasons of drought have left millions of people in need of food assistance until the next harvest comes in. This will be a major topic on Mr. Keating's agenda for his meetings today.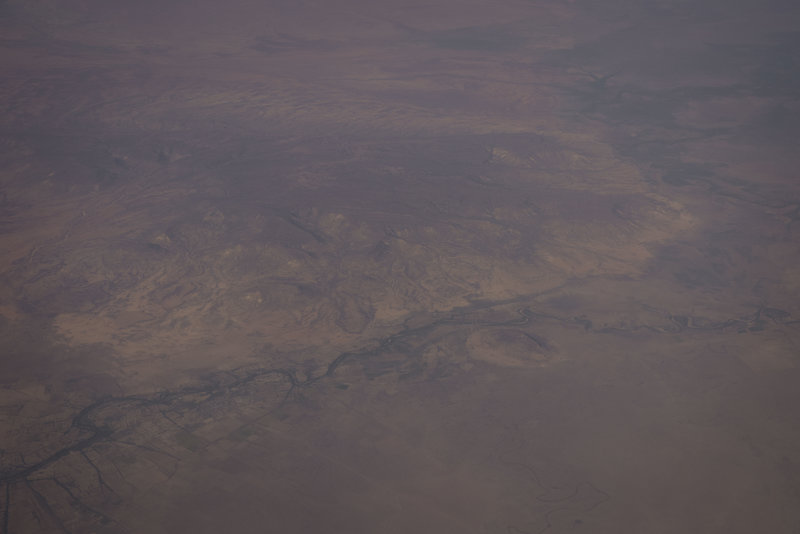 09:35 a.m. – Some two hours after taking off from Mogadishu, Mr. Keating lands in Hargeisa, the capital and largest city of 'Somaliland,' which declared independence in 1991 after the overthrow of Somali military dictator Siad Barre. With a rich heritage going back hundreds of years to the sultanates of the Middle Ages, the city suffered extensive damage in the 1980s and early 1990s as the Somali military dictator Siad Barre used military force to quash a movement to achieve independence for 'Somaliland.' Since then, many residents have returned and the city has been rebuilt in many areas.
09:40 a.m. – The UN Assistance Mission for Somalia (UNSOM), which Mr. Keating heads, has a local office in Hargeisa, manned by national and international staff. Right after landing, accompanied by his delegation, Mr. Keating sits with some colleagues to quickly go over any updates to his schedule and receive an up-to-the-minute briefing on the situation on the ground, including any security concerns.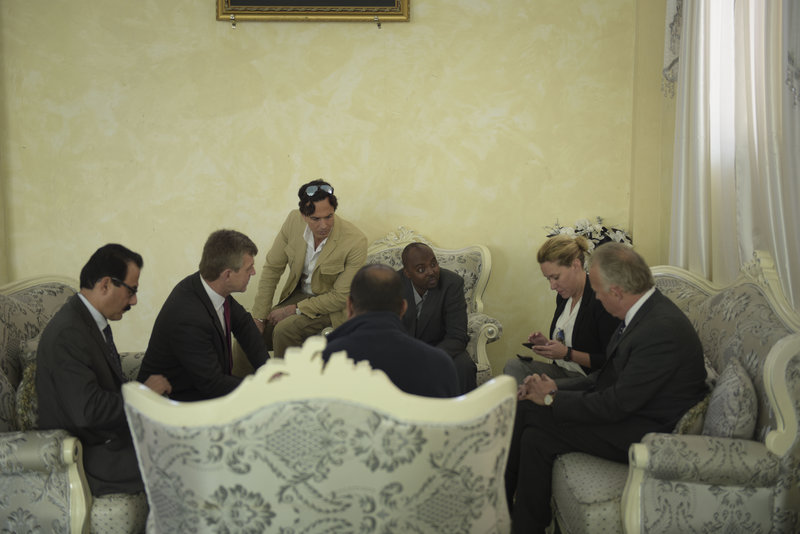 10:20 a.m. – Soon after, in a small convoy, Mr. Keating is whisked away to have his initial meeting of the visit, with 'Somaliland's' President Muse Bihi Abdi. It's their first meeting since the latter was elected in November of last year. In their meeting, they cover the new government's priorities, as well as the latest security issues – just days earlier, there had been heightened tensions following reports of clashes between security forces in the Sool region, part of a disputed area claimed by both 'Somaliland' and Puntland state, located on the north-eastern tip of the Horn of Africa.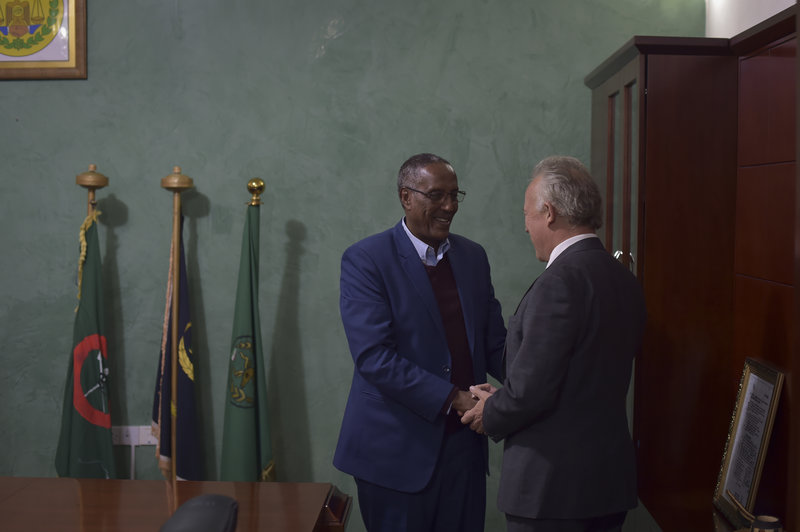 12:15 p.m. – "I was very impressed by and grateful to the President for his commitment, borne from his many decades of personal experience, of the importance of finding peaceful solutions to problems, and that a priority must be to try and prevent violence of any kind, whether in 'Somaliland,' or, indeed, between 'Somaliland' and others," Mr. Keating later says about his encounter with the President. Here, the UN envoy is in deep discussion with 'Somaliland's' Foreign Minister Saad Ali Shire, as they head to a joint encounter with local media after the meeting with the president.
12:25 p.m. – "Our position is to try and reduce tensions (and) to increase dialogue very quickly between both sides, so that if there are misunderstandings, these are clarified – if there are genuine differences, then they have to be subject to immediate discussion. But resorting to military solutions and to violence is not the way to resolve these problems," Mr. Keating tells a large gathering of media in the joint press conference. His call for calm and dialogue receives widespread coverage on local and regional news outlets throughout the day.  
01:05 p.m. – The press conference over, the UN envoy is driven off to his next encounter. Escorted by local officials, he is taken to government offices where he's due to meet with a range of cabinet ministers. Part of UNSOM's mandate is to support the efforts of 'Somaliland' to promote a politically stable and democratic system that adheres to the principles of good governance.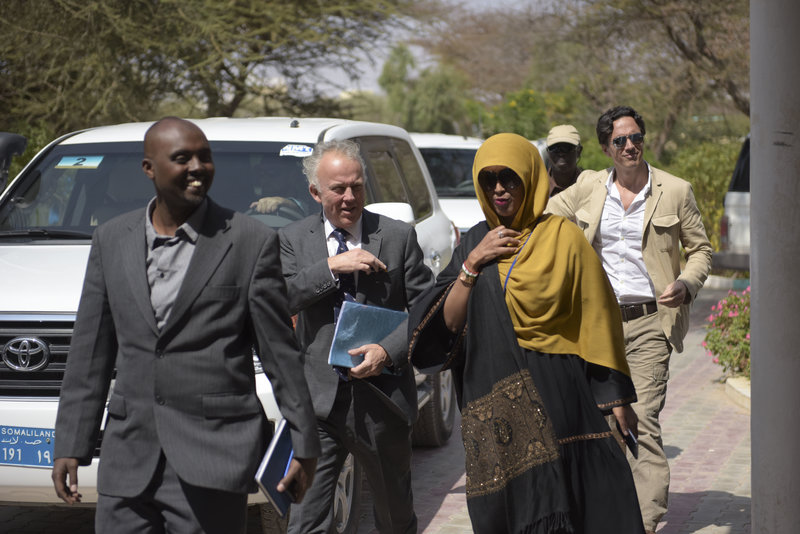 01:10 p.m. – After introductions are over, Mr. Keating and his team sit with the cabinet ministers to discuss various topics of interest. The UN envoy's sphere of work goes beyond political affairs, and the topics include education, health, security, the impact of drought and employment, and how the United Nations can best provide support in addressing humanitarian and development challenges in these areas.
2:30 p.m. – Local media interest in the UN envoy's visit is usually strong, and 'Somaliland' has a vibrant media industry. Soon after the meeting with the cabinet ministers, while on his way to his car, he is stopped by a local journalist keen to ask about what was discussed at the meeting.
3:00 p.m. – While this sort of quick visit is often jam-packed with such discussions, every once in a while, there's scope for touching upon a somewhat different aspect of development and heritage. In this instance, it involves a one-hour drive north-east of Hargeisa to a location known as Laas Geel, a complex of rock shelters and caves famous for paintings dating back several thousands of years. According to reports, experts have theorized  that the Neolithic art indicates a pastoralist lifestyle that existed in the Horn of Africa thousands of years before it reached Western Europe.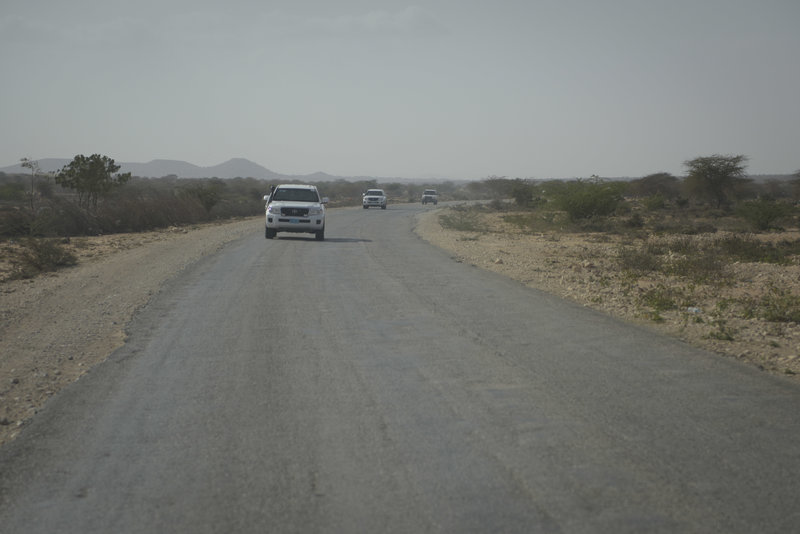 03:30 p.m. – However, even with the best-laid plans, things can go awry. The potholed road and dirt track to Laas Geel throws up its own challenges, even for sturdy four-wheel-drive vehicles: one of them gets a flat tire, delaying the already behind-schedule UN envoy.
04:00 p.m. – The rock art shelters and caves are considered to be one of the oldest such sites in Africa and the most important ancient site in 'Somaliland.' Laas Geel means "source of water for camels." While the area is now dry and no longer draws herds of cattle coming to graze and water, the site is located near a confluence of two dry rivers. French researchers came across the site during an archaeological survey in 2002. According to reports, local residents knew of the site for centuries but avoided it due to the supposed presence of demons and evil spirits. 
04:15 p.m. – "One of the reasons I wanted to come here is because it's good to be reminded that (while) the image of this part of the world is about conflict and so much despair and suffering, and yet it's also one of the cradles of civilization," Mr. Keating says at the site. "So while it's a resource for the world, it's also very important for Somalis to know that they are living in a land with great history and traditions and that is changing and is dynamic."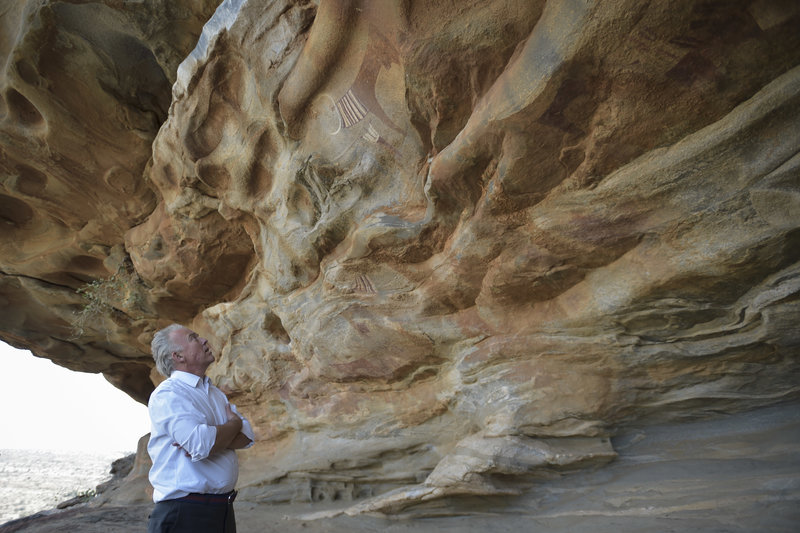 04:20 p.m. – The ancient paintings depict wild animals, decorated cattle and herders. They're believed to indicate that the Horn of Africa region was once lush and green, and home to many wild animals. Some of the rock shelters have dozens of individual paintings. According to some investigations, there are many more such rock art sites scattered throughout the region, awaiting re-discovery.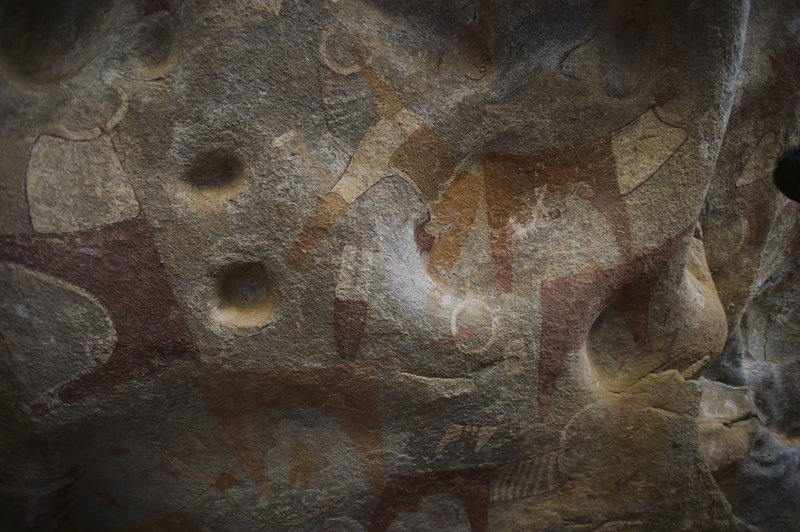 04:30 p.m. – According to local authorities, up to 200 visitors, from the region and abroad, make the trek to the site each month, despite access difficulties and concerns over security. "That would suggest that the potential is indeed enormous, and not just limited to rock caves," Mr. Keating notes. "There's the natural environment, the coast and the beaches are incredible, the potential for tourism is enormous." There have been concerns voiced in recent years that the site's paintings are under threat of serious deterioration from their exposure to the elements as well as local animals.
5:30 p.m. – With the visit to Laas Geel over, the Special Representative returns to Hargeisa as the sun begins to set, with the tourism potential of the rock art site lingering in his mind. The UN Educational, Scientific and Cultural Organization (UNESCO) sent a team to review the site in 2016. It made recommendations on how to best safeguard it, and is working with local authorities on putting those measures in place. Mr. Keating's return to the city doesn't mean a chance to rest though – rather, the UN envoy's night is filled with other official encounters, including a formal dinner with local officials.
THURSDAY, 18 JANUARY 2018
09:30 a.m. – The following morning includes another full schedule. Mr. Keating kicks off his day meeting with representatives of civil society organizations in Hargeisa, discussing topics similar to those discussed yesterday with government officials. For the UN, civil society is the "third sector" of society, along with government and business, and it recognizes the importance of partnering with such groups to advance the world body's ideals and support its work.
11:05 a.m. – As often happens, the meetings go on longer than expected, disrupting plans and schedules. Still, the UN envoy manages to squeeze in a quick meeting with UNSOM staff in Hargeisa, thanking them for their efforts in supporting his two-day trip as well for their longer-term work on the ground there.
11:50 a.m. – Close to midday, Mr. Keating has made it through the traffic in Hargeisa and is on the tarmac at the airport making his way to the waiting UN flight to return him to Mogadishu. It's been an intense and hectic 36 hours, but a productive visit all the same. 
01:00 p.m. – However, his return to Mogadishu is not so different to his departure – reading through his notes, discussing upcoming events and issues, and preparing for what awaits him upon landing.