Salad Yusuf Adow: Making inroads in the digital space to transform the youth
By his own account, Salad Yusuf Adow had an epiphany in 2015 that convinced him to launch his digital startup company Danleey.
His interest in digital space soared that year after he realised that social media was the best way to reach out to young people and change their perspectives about Somalia. Salad marvelled at the possibilities and opportunities offered by digital space to turn his ideas into action.
"The majority of youth in Somalia who have access to the internet use social media. It is a powerful tool in this country," explains Salad.
Orphaned during the war at the age of four, the Mogadishu University graduate saw social media as a useful instrument to address the growing phenomenon of illegal immigration out of Somalia. Salad has seen tens of thousands of young people sneak out of the country through dangerous routes in search of greener pastures elsewhere.
Determined to curb this trend, he devised a plan to keep these young women and men in their home country. "I started packaging compelling videos with messages about the perils of illegal immigration and uploaded them on social media. These short awareness videos were viewed widely," he states.
To sustain his project in its initial stages, he sought support from his circle of friends and was able to raise enough money to rent a physical space in central Mogadishu. Salad then recruited three staff members and hired interns from universities in the Somali capital to film and edit the videos.
Salad soon realized he needed to tap into the rapidly growing social media community to expand his networks. Beyond the money he was earning on the social platform, Salad felt obliged to help young Somalis find meaning in their lives. He stepped up the output of his videos and peppered them with motivational and inspirational content that gives purpose and hope to youth.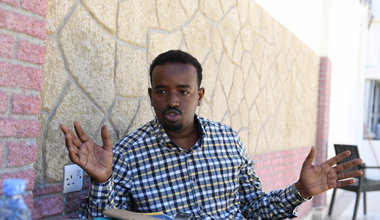 Today Danleey, which loosely translates into "interest" in English, is a fully-fledged organisation that conducts training on innovation and entrepreneurship for young people from different regions of Somalia. Support for Danleey has come from far and wide, owing to the positive impact the organisation has had on young people.
According to Salad, one of the beneficiaries of his entrepreneurship classes has set up a successful solar energy business in his home on the outskirts of the Puntland capital of Garowe, where residents use the energy source to charge their mobile phones.
Danleey's rapid growth in the digital space is not surprising or unique. Progressive and forward-looking Somalis are increasingly embracing technology to provide solutions to their common challenges.
Recent studies indicate that Somalia's digital space is one of the most robust in the Horn of Africa region, due to its young and tech-savvy population. Mobile phone penetration in the country, is also one of the highest in Africa. "Social media space has taken over the country.  For example, I don't listen to radio or watch TV. I get all my information from Twitter and Facebook. Be it news, job offers, you name it," Salad acknowledges.
Yet for all the opportunities afforded by the country's burgeoning digital space and social media community, young people are still leaving the country in droves and undertaking risky journeys to Europe in the quest for a better life. But Salad is confident that the trend can be reversed.
"Youth are the single most precious resource in Somalia," he says. "Security and stability in this country ultimately will depend on the youth. History tells us that the youth led this country to independence. Terrorism is driven by young people because they are the foot soldiers in terror organisations like Al-Shabaab."
Although Danleey does not have the capacity to provide seed funding to business start-ups, Salad has ensured that the organisation imparts the right knowledge needed by young Somalis to enhance their business acumen.
"As part of our strategic plan, we want to continue training these young people and producing awareness video programmes for social media platforms," Salad declares.