Somali government, civil society and UN mark anniversary of historic resolution on women, peace and security
Mogadishu – Progress in raising women's participation in Somalia's peace, security and development efforts came under the spotlight today at a gathering of government, civil society and United Nations representatives, among many others.
"I want to say how encouraging it is to see so many women leaders from so many different areas of activity. We often think of leadership as being primarily from the political arena. But I think this group today shows that… women can be leaders in politics, business, education, the security sector and civil society, by motivating their fellow Somalis in so many ways," said the UN Secretary-General's Special Representative in Somalia, James Swan.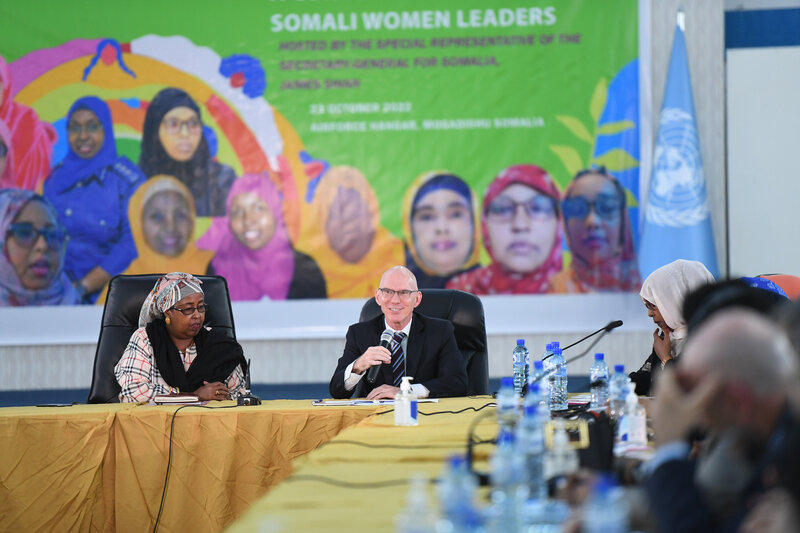 "It is important that we recognise that leadership takes many facets and can be expressed in many different ways. And that is what we see here today," he added.
The UN official was speaking at the 'UN Open Day on Women, Peace and Security,' held to mark the 22nd anniversary of the UN Security Council's landmark Resolution 1325.
Asides from government, civil society and United Nations representatives, participants at the event also included women leaders from Somalia's federal parliament, the business sector, youth groups, educational institutions and Somali security forces.
Adopted in 2000, Resolution 1325 reaffirms the important role of women in the prevention and resolution of conflicts, peace negotiations, peace-building, peacekeeping, humanitarian responses and in post-conflict reconstruction. It also stresses the importance of their equal participation and full involvement in all efforts for the maintenance and promotion of peace and security.
The UN Special Representative's remarks included a focus on the role that Somali women can and should play in their country's decision-making processes in the political arena, particularly their representation and inclusion in all levels of government as well as their key role in economic development, including their need to be able to access financing. He also addressed the importance of education and building a knowledge base so that women and girls are better able to contribute to their country's development.
"Obviously, education is at that centre of that growth and we know that education of girls in particular has multiple benefits for overall health and wellbeing and effectiveness of the society," Mr. Swan noted.
Government and resolution 1325
In her remarks to the event, the federal Minister for Women, Human Rights and Development, Khadija Mohamed Diriye, spoke of the importance given to the resolution by the Federal Government of Somalia (FGS).
"Somalia is one of the 100 countries that have put together a national plan to advance UN Security Council Resolution 1325. We will work to implement this agenda," said Minister Diriye. "My ministry will work with the line ministries in the Federal Member States, the Banadir Regional Administration, and women organisations to ensure that everyone participates meaningfully."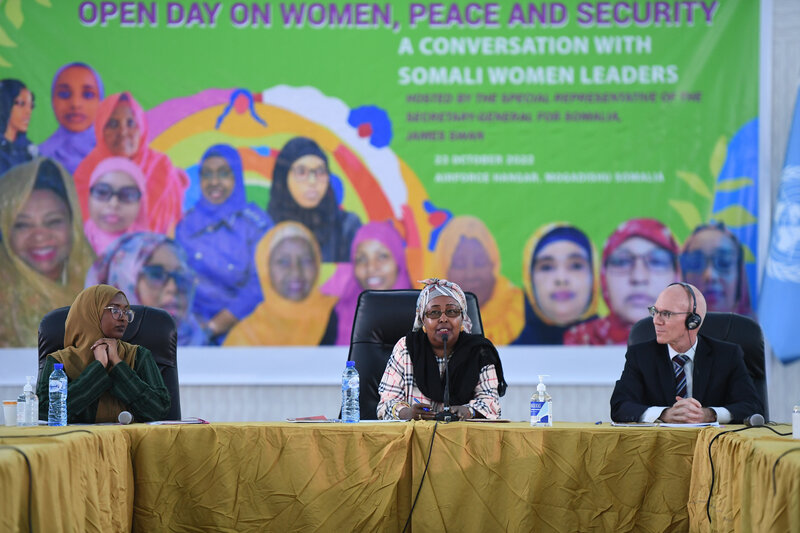 The FGS official noted that Somalia's National Action Plan on Women, Peace and Security will be implemented from 2022-2026, and was built on four pillars: women's participation in peacebuilding, their full inclusion in decision-making, the prevention of abuse of women, and their protection.
The National Action Plan was launched in September by the country's prime minister.
Terrorism and resolution 1325
Another speaker at the gathering, the Deputy Commissioner of the Somali Police Force, General Zakia Hussein, told the participants that women can play a crucial role in ending conflict by encouraging female members of Al-Shabaab to defect.
She noted that women associated with the terrorist group play a variety of roles – including as assassins, fundraisers and couriers – but that there was no outreach programme targeting them.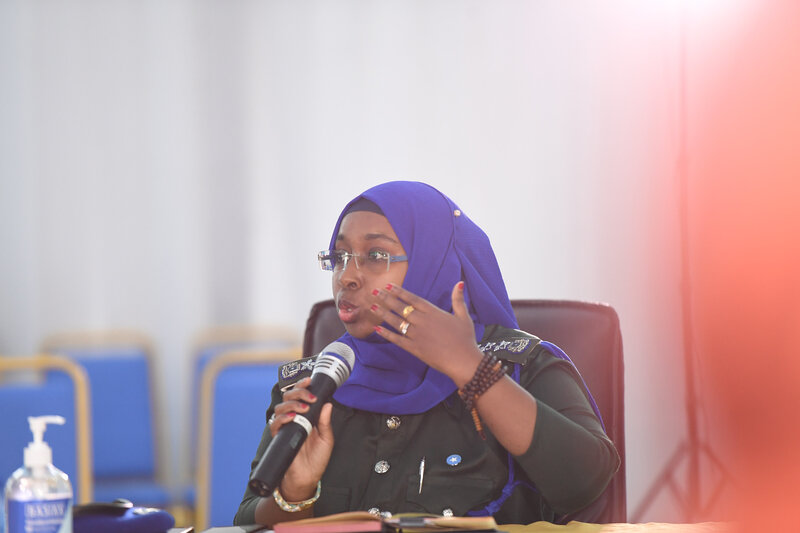 "We need a special platform for women in security and civil society to counter Al-Shabaab's abuse. In order to serve our people, security and civil society organisations should work together," the senior police officer said.
The UN Special Representative acknowledged the participants' commitment to combat Al-Shabaab and the negative effects that the terrorist group has had on Somalia.
"Women are at times victims, but they are also essential actors in taking the fight to Al-Shabaab in all its arenas – economic, in terms of countering Al-Shabaab ideology in [the] perversion of Islamic ideas – and women have a central role to play in that as well," Mr. Swan said.
"Your messages to that end were clear today," he continued. "We have heard them from the Somali Government repeatedly and the importance, particularly, of work by international partners to support stabilisation and recovery in communities that are recaptured from Al-Shabaab. We are working closely with government entities to that end."
UN support
The world body's top official in Somalia ended his remarks with an assurance of the UN's firm commitment to work with the participants in advancing Resolution 1325, and with a call for unity and collaboration.
"I hope that you will continue to operate as a group. You are stronger together. You are stronger working collectively, representing all of the different attributes that you women leaders bring and I hope that you will continue to work as a network" Mr. Swan said.
UN Open Days on Women, Peace and Security are held around the world to commemorate Resolution 1325, with the occasion providing an opportunity for women to highlight their experiences, challenges, contributions and efforts to promote peace and security in conflict and post-conflict settings.
The celebrations also give women the opportunity to directly engage with leaders and policy planners and be actors for change, to take ownership, as well as to strengthen the implementation of the resolution and subsequent resolutions.