Somalia's National Theatre: Rebuilt, renovated and helping renew a rich cultural sector
Mogadishu – "Culture is the fountain of our progress and creativity and must be carefully nurtured to grow and develop," according to the World Commission on Culture and Development – and it is a view many people in Somalia would agree with, especially those working in the country's arts and culture sector. 
"Somalis love their culture. The decades of conflict and violence did not deter them from producing music or poems," notes Omar Ali Hassan, a culture writer and critic, based in the capital, Mogadishu. 
And Somalis have reason to take heart. 
While the country is rebuilding its political institutions and civil infrastructure after decades of conflict and violence, dealing with a range of issues on its path to peace and stability, it recently made an enormous stride in its cultural life with the reopening of its National Theatre. 
Eight years after it was destroyed by Al-Shabaab terrorist group, it reopened to the public on 1 July – the same date as Somalia's independence anniversary – and was welcomed as a vital step in Somalia's cultural restoration. 
Gift from China 
 Before the civil war began in the early 1990s, Somalia was hub of cultural influences and trends – ranging from its rich traditions of poetry and oral story-telling to more modern sounds, with music including funk, disco, soul and reggae frequently heard both in venues and on the airwaves.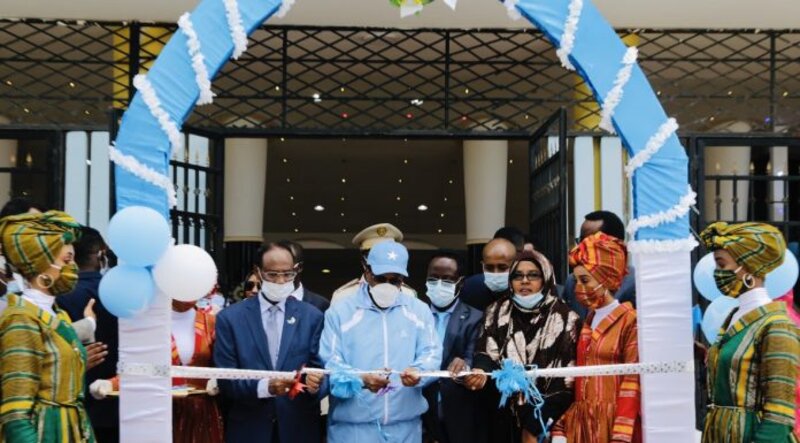 As a gift from China's leader Mao Zedong to Somalia in the 1960s, Chinese engineers built the National Theatre in 1967. It opened that same year and was heralded as an important driver for the country's cultural development in the 1970s and 80s.  
It closed in 1991, at the onset of the civil war, and was used as a base for warlords fighting over the city. As a consequence, it was severely damaged, eventually becoming little more than ruins. When government forces and peacekeepers from the African Union Mission in Somalia (AMISOM) ousted Al-Shabaab from the capital's centre in 2012, the venue was repaired and reopened – however, Al-Shabaab militants destroyed it just 15 days after the opening with a suicide bombing. 
Rebuilding and renovation 
Since then, there has been a long process to rebuild the venue, with support from the Somali authorities, businesses and international partners such as China – as well as from Somalia's general public. The process gained steam in recent years. 
"We have been rebuilding and renovating the theatre for one year and a half. We have removed debris and dirt. We have reached this milestone due to President Mohamed Abdullahi 'Farmaajo's' initiative of 'Isxilqaan' – national volunteerism. Also, many Somalis contributed financially to the reconstruction of the National Theatre. And today, praise be to Allah, the theatre is functional," says the Director of the National Theatre, Abdulqadir Abdi Shube. 
Currently, the venue's main hall has a seating capacity for 1,270 people. Its administrators hope to increase that number, as well as expand the usage of its main hall. 
"We want the theatre to function at a 100 per cent; even more than before [the civil war]. We hope that it will a place where conferences, workshops, cultural meetings, entertainment and music festivals or competitions are held," Mr. Shube says. 
Coming soon 
While the National Theatre is open, it has yet to become fully operational, allowing Somali artists to show their talent and perform their work – partly because of the impact of COVID-19 in Somalia.   
But, according to Mr. Shube, dramas and songs are already being developed which, when ready, will be shared with the Somali public at the venue, helping it in its return to the epicentre of Somalia's arts and culture sector. 
"I tell all Somalis that the theatre is open to all and sundry. It is important that we all work together, mainly on issues of security, but also to preserve the theatre itself because in and of itself it is a public good," he says, flagging that he hopes to have the first performances take place in the coming months. 
"Having a special place like a theatre will help the country's arts to thrive. Musicians and poets will have a space where they can showcase their creative endeavours. And people who love Somali culture and arts will have a place to watch it and interact with the artists," adds Mr. Hassan, the culture writer. 
He also sees it playing a role in helping Somali youth to take pride in their country's culture and provide an avenue for them to express themselves, away from radicalization and violence.  
"Peace is happiness. The theatre is place where the peaceful messages can be communicated to the people." Mr. Hassan says. "And at the same time, it is a place where you can make them move away from conflict or war."  
Commitment to culture 
Somalia's activity in the area of arts and culture has been on the rise. In February, the Director-General of the United Nations Educational Scientific and Cultural Organisation (UNESCO), Audrey Azoulay, visited Mogadishu, where she signed an agreement which included the goal of strengthening efforts to preserve the country's cultural heritage. 
 
In the area of culture, Somalia-UNESCO foresees professional capacity-building and training, with the UN agency's support for the rehabilitation of the National Theatre, as well as its National Museum and National Library. 
As well, in late July this year, Somalia presented to UNESCO the original instruments of ratification of the UNESCO Convention Concerning the Protection of the World Cultural and Natural Heritage (1972), making it the Convention's 194th State Party, as well as the Convention for the Safeguarding of the Intangible Cultural Heritage (2003), becoming the 180th State Party. Somalia was the final country in Africa to join the World Heritage Convention. 
At the time, UNESCO said that Somalia has a wealth of built and natural heritage, as well as living heritage, and the implementation of these standard-setting instruments, along with the international network of support they offer, can help to ensure the safeguarding and conservation of this heritage. 
As the newest State Party to the World Heritage Convention, Somalia will be in a position to nominate sites to UNESCO's World Heritage List. As a State Party to the Intangible Cultural Heritage Convention, Somalia will also be expected to draw up inventories of its intangible cultural heritage practices and develop safeguarding plans to ensure their transmission to future generations.