Two-day meeting ends with call to expand Somalia's civic space and enhance human rights advocacy
Mogadishu – A two-day symposium which brought together people from different parts of Somali society concluded in Mogadishu today with a call for more to be done to expand Somalia's civic space.
"Civil society organisations are key because they are in touch with the people even in areas that cannot be accessed by government officials. These community-based organisations are active on the ground and if they are not empowered, our impact as a government will not be felt," said Somalia's State Minister for Women and Human Rights Development, Amina Hassan Ali.
"Civil society organisations are well positioned to interact with grassroots communities and identify the community needs, and complements government efforts," she added in an interview on the opening day of the symposium on Wednesday.
Supported by the United Nations and organised by the non-governmental organisation Somali Women and Child Care Association (SWCCA), the two-day symposium was attended by human rights defenders, journalists, members of parliament, cabinet ministers, and academics.
In addition to expanding the country's civic space, they also discussed ways to empower civil society organisations (CSOs) to become active in their communities, speak out on critical human rights concerns and be able to amplify their voices collectively on advancing human rights in Somalia.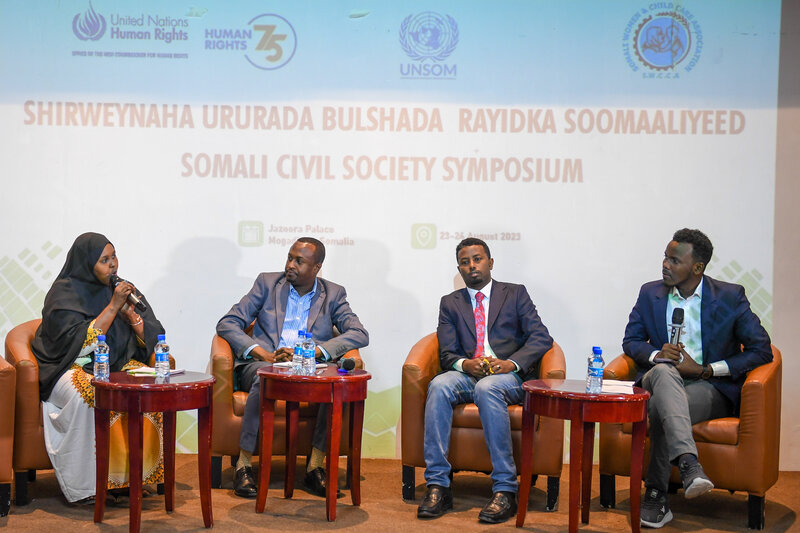 Representing citizens
Speaking on the event's opening, the Chief of the UN Assistance Mission in Somalia's (UNSOM) Human Rights and Protection Group, Kirsten Young, stressed the important role of CSOs in representing citizens and presenting issues that concern the public to authorities.
In her remarks, she flagged a range of topics, such as the rights of minorities and the vital role that freedom of expression plays in open debates and discussions. She particularly highlighted civil society's collaboration with Somalia's federal Parliament to enact human rights legislation on topics such as juvenile justice, disability rights and child rights.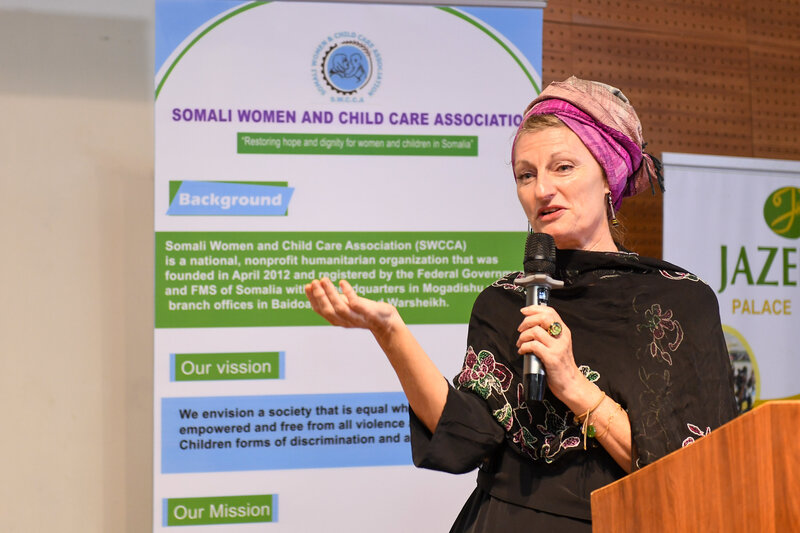 "What is interesting that we have seen in the last few weeks, that Parliament has been holding hearings on issues that citizens have brought to the Parliament – issues of concern for them," said Ms. Young, who also serves as the Representative to Somalia of the Office of the UN High Commissioner for Human Rights (OHCHR).
"And I think this is just a great practice because these are live debates, the citizens see what they are talking about and then can engage," she added. "A lot of this work behind the scenes is civil society that has pushed those issues."
Areas of focus
In the discussions over the two days, participants focused on a range of issues, including women's political participation.
"We keep advocating for our federal constitution to reflect thirty per cent women's representation in Parliament. But this cannot be achieved without the substantive support from the civil society that are vocal in fighting for the rights of women, and creating awareness," said the secretary of the Federal Parliamentary Committee on Women, Human Rights and Humanitarian Affairs, Adar Mohamed. 
"We realised there was a huge gap as far as women's participation in the development and political space is concerned. We had organised workshops on women's participation in politics, and I am glad that two of my colleagues are now Members of Parliament," the founder of the Women Centre for Peace and Development, Hibo Ali Osman, noted in her remarks to the event.
The issue of disability rights also figured in the discussions. Currently, a National Disability bill has been sent to Parliament for review.
The acting Executive Director of the Somali Women and Child Care Association, Hayatt Mohamed, noted that persons with disabilities need to be given the opportunity to voice their opinions in public forums as their perspectives are often overlooked or ignored. 
"The civil society, parliament and the government need to collaborate to fill this gap, which remains a big challenge," said Ms. Hayatt.
"People with disabilities represent 15 per cent of Somalia's population and yet they don't get basic rights. This is unfortunate, and we appeal to the Federal Government to help us get our rights because the government is responsible for us," said the chairperson of Somali Women Disability Empowerment Initiative, Farhia Mohamud Mohamed.
In a communiqué issued at the end of the meeting, participants agreed on the need to strengthen collaboration between civil society and state institutions, especially the Federal Parliament. The participants also called for an open space that allows freedom of expression, recognising civil society and media as crucial to Somalia's ongoing reconstruction and democratisation.