Vincent Lelei: "Somalia is a nation that is coming together"
When Vincent Lelei flew into Mogadishu in January 2017 to assume his duties as a senior United Nations humanitarian official in Somalia, he found a country in the grips of a severe food insecurity crisis after four consecutive below-average rainy seasons.
The outlook was dire, with forecasts of another poor Gu season in the second quarter of last year stoking talk of another famine just around the corner for the Horn of Africa country.
The veteran humanitarian official immediately diagnosed the major challenges facing Somalia and, by extension, the community of humanitarian aid workers, as government officials raced against the clock to fend off a repeat of the devastating 2011-12 famine that killed an estimated 250,000 Somalis.
"A large number of areas in the country were not accessible (to humanitarian workers) because they were occupied by armed groups, and one of my functions was to find opportunities for humanitarians to provide services in those areas in innovative ways," recalled Mr. Lelei, who recently retired after 15 years of service with the world body, the last of which he spent as the UN Deputy Humanitarian Coordinator in Somalia.
"And for more than 20 years, the government of Somalia had been in a state of collapse," he added. "(But) it has been coming together increasingly, and it was time for them to carry part of the load for providing services to their own." 
The tale of the threatened famine had a happy ending: a second humanitarian catastrophe in six years was averted through the sustained efforts of the Federal Government of Somalia (FGS) with robust support from the international community.
Speaking in an interview conducted in the final week of his career with the United Nations last month, Mr. Lelei praised the steadfast resolve of the FGS to confront the potential calamity facing the country and the enhanced cooperation among UN humanitarian agencies and other international partners.
"Over the last year, we have begun to work with the government of Somalia in a joined-up way. In the past we never believed that the government could do this much," he noted. "Now we believe they can actually do more."
A native of Kenya's Great Rift Valley town of Kijabe, located 50 kilometres northwest of Nairobi, Vincent Lelei began to focus on humanitarian issues when he was working for the World Bank as its national programme coordinator in Kenya between 1993 and 2000. His UN career started three years later when he was hired as a humanitarian officer with the UN Development Programme (UNDP) in Zimbabwe.
Tours of duty with the UN Office for the Coordination of Humanitarian Affairs ensued in Ethiopia, South Sudan, Sri Lanka and Nigeria before Mr. Lelei was appointed as deputy to the UN Resident/Humanitarian Coordinator for Somalia, Peter de Clercq, at the start of 2017.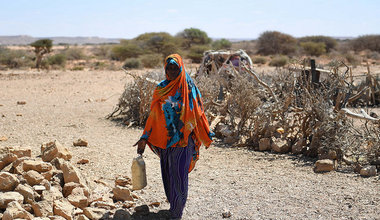 No stranger to Somalia
He was no stranger to Somalia, having first visited the country on a number of occasions when he was the Nairobi-based regional director of Oxfam UK for East and Central Africa from July 2000 to January 2003.
"Somalia has been very close to me," said the father of four grown-up daughters. "I have seen (Somali expatriates) rushing back home to rebuild their country, their politics, their institutions. Somalia actually is a nation that is coming together after more than twenty years of disintegration and collapse."
During his 18-month stint in Somalia, Mr. Lelei was also gratified to see UN humanitarian agencies collaborate more closely.
"My terms of reference were to enable humanitarians to work together in making sure that services and protection reached the people at this great time of need," he noted. "And what I have learned is that it is very possible for the entire UN system to work as one without treading on each other's feet for peace-building, conflict resolution, the election process, and development activities."
As he prepared to head home to Kenya last month, Mr. Lelei admitted to feeling "a little burnt out," and said he was looking forward to four months of travel that will take him to the Indian Ocean islands of Zanzibar and Mauritius.
He also sees some warning lights along Somalia's long road of recovery that its citizens and leaders would do well to take note of.
"After about six months in Somalia, I tweeted a straight line with a zigzag crossing it but the line was still pointing up. My point was that Somalia, while going forward, will continue to stand up and walk but not in a straight line," he explained. "It will fall down sideways sometimes and then go forward, sometimes it will fall down and stay on the ground for a while – but then it will get back on its feet to continue walking afterwards."
Mr. Lelei's long-term prognosis for the Horn of Africa country is unequivocally bullish.
"I don't think Somalia will go back to where it was in the nineties and the early years of this century," he states. "There is a Somalia that is thriving, active and growing, and which hopefully will get joined up to create one strong and unified nation – that's my hope for the future."