On visit to Baidoa, Humanitarian Coordinator Highlights Needs for 'Long-term Durable Solutions' for Internally Displaced Persons
Baidoa – With her ten children, Fatuma Isaq Mohamed's life is a daily struggle.  
"This is not our land and we don't know how long we will be here," she says, while sitting outside a makeshift house of orange plastic and sticks, flanked by some of her children, at the Haatafo camp for internally displaced people (IDPs) in Baidoa, the interim capital of Somalia's South West State.
"Our problems and needs in this camp are many," the 45-year-old adds. "We desperately need food and water. To survive, I occasionally do manual jobs around the camp to give me an income. However, it is irregular and not sufficient for our upkeep."  
Like many others in the Haatafo camp, Fatuma fled from fighting and violence in Diinsoor, her hometown, located in South West State's Bay region some four years ago.
Since then, she and her children have lived a life of uncertainty, without basic protections. 
Conflict and violence have prompted many to flee to camps like Haatafo. But such camps are also the residence of thousands of other people who have been displaced by drought and floods which have deprived them of both their home and their livelihoods.
Since 2000, Somalia has had 19 severe floods and 17 bouts of drought – three times more the number of climate-related hazards experienced between 1970 and 1990. In 2017, a severe drought left Somalia on the verge of famine. In 2019, a delayed and erratic Gu' rainy season resulted in the poorest harvest since the 2011 famine and flooding.
These factors have meant that Somalia has one of the highest numbers of IDPs in the world. In 2019, the country had 2.6 million, with most of them requiring humanitarian assistance.
In South West State alone, there are some 350 camps for the internally displaced, making it one of the worst-affected of the country's Federal Member States when it comes to displacement. 
Finding solutions 
The UN Secretary-General's Deputy Special Representative for Somalia, Adam Abdelmoula, was recently in Haatafo camp to meet with some of its residents and hear directly from them about their situation.
The challenges he heard about were wide-ranging – poor housing, lack of food and water, shortage of medicines, limited education and job opportunities and, for many families, instability.
In his interactions, Mr. Abdelmoula, who also serves as the UN Resident and Humanitarian Coordinator for Somalia, assured the IDPs of the UN's commitment to help improve their lives. 
The United Nations family is teaming up with the Federal Government of Somalia to implement a new three-year project which exclusively targets IDPs. Titled Saameynta, or 'impact,' the joint project seeks to scale up durable solutions to displaced persons in Baidoa, as well as Bosasso in Puntland and Belet Weyne in Hirshabelle.
"The idea is that this project will target 100,000 internally displaced people to be settled properly and provided with social services and job opportunities," Mr. Abdelmoula told a group of IDP community leaders during his visit. 
In their exchange with the UN official, the community leaders echoed the concerns of the residents the UN official had met with – the lack of health facilities, insufficient food and limited education options – as the main challenges for IDPs in Baidoa. Women community leaders also identified the absence of obstetric services and insecurity within the camps as their biggest issues. 
Humanitarian situation
Mr. Abdelmoula and his delegation later met with the South West State's Speaker of Parliament, Ali Said Fiqi, and some government cabinet members, and discussed the overall humanitarian situation, as well as security and development issues. 
"We discussed IDPs living in Baidoa and how their lives could be improved. We had a very fruitful meeting in which we agreed on how best to address the humanitarian situation in the South West State of Somalia," Mr. Fiqi, who was also acting President of South West State at the time, said at a press conference after the meeting.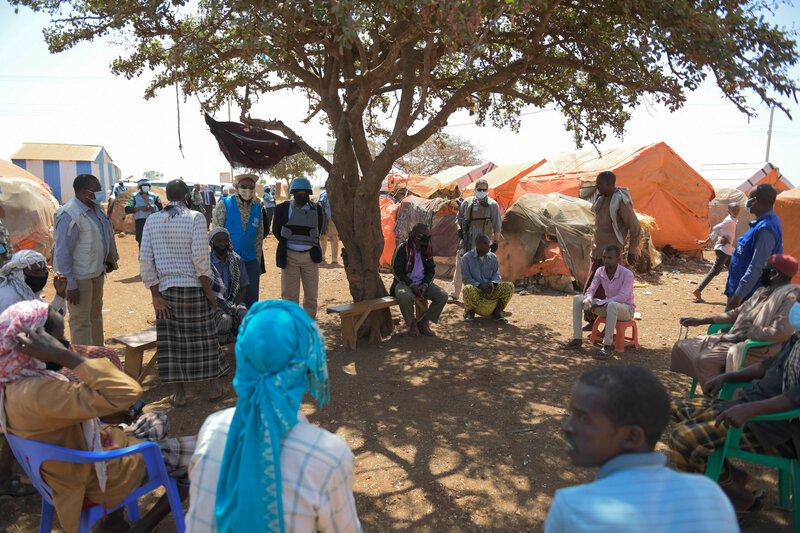 At the press conference, the UN deputy envoy said it was important to see and hear first-hand from South West State's IDPs and the local authorities leading efforts to help them in order to discuss the rollout of Saameynta.  
"This was a unique privilege to visit Baidoa and to also visit the internally displaced communities around the city and to have an exchange with the Speaker about how we could work together to find durable solutions to some of the chronic humanitarian challenges that the South West State is facing," Mr. Abdelmoula said.
In addition to hailing the efforts of the South West State authorities to address the perennial challenges facing displaced people, he emphasized the importance of breaking away from a dependency on temporary fixes and looking to the entire humanitarian-development-peace nexus to find longer-term solutions. 
The nexus refers to the approach that humanitarian relief, development programmes and peacebuilding are not serial processes – rather, that they are all needed at the same time when aid is planned and financed.
In their discussions, Mr. Fiqi and Mr. Abdelmoula also covered the humanitarian situation in Hudur, a town north of Baidoa, which is facing an acute shortage of food, humanitarian supplies and commercial goods as a result of an economic blockade imposed by Al-Shabaab.   
The terrorist group has cut off the main supply route to the town and is denying passage of any goods. The UN deputy envoy said the international humanitarian community would do whatever was possible to assist with humanitarian aid to Hudur, as well as consider longer-term options. 
The Saameynta project is expected to be launched in early 2021.