On visit to Dhusamareb, UN signs agreement for establishment of office in Galmudug
Dhusamareb – United Nations support for Somalia is set to step up a notch following an agreement which paves the way for the establishment of a new office in the country's Federal Member State (FMS) of Galmudug.
The FMS' President Ahmed Abdi Karie 'Qoorqoor' and the UN Secretary-General's Deputy Special Representative for Somalia, Anita Kiki Gbeho, today signed a lease agreement for land at the Hero Drogo camp site in Dhusamareb, on which the new UN field office will be located.
"I thank President QoorQoor for his perseverance, his patience and his support to the United Nations in identifying this location," Ms. Gbeho said in a joint press encounter with the FMS' leader at Galmudug's state house.
"Once the office is completed, it will provide a platform for the United Nations family, and other international partners, to support Galmudug in developing its institutions and delivering services in an inclusive manner to its people, including in recently-recovered areas," added Ms. Gbeho, who also serves as the Officer-in-Charge of the UN Assistance Mission in Somalia (UNSOM).
"The United Nations believes in Somalia's vision of a peaceful and a prosperous nation," the senior UN official noted, "we therefore look forward to establishing a physical presence in Galmudug and deepening our cooperation with and support to the people and the government of Galmudug."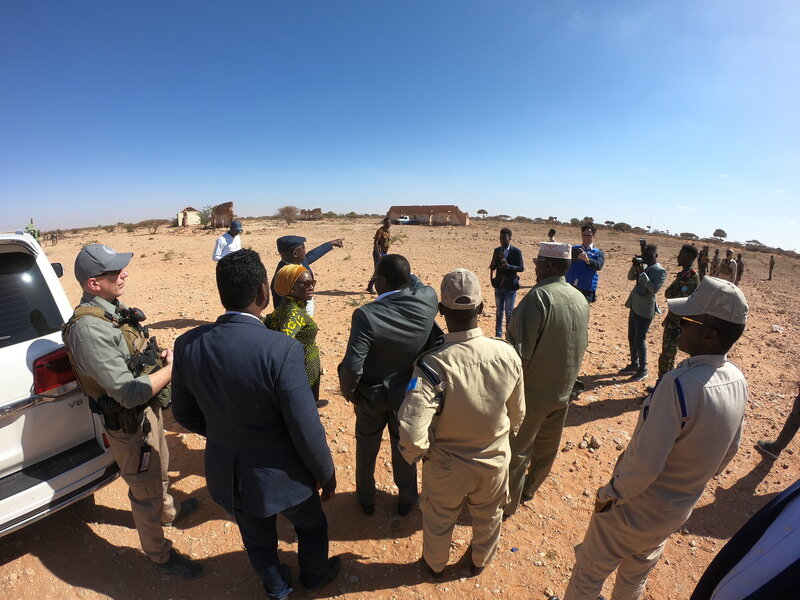 Currently, the United Nations family in Somalia has been supporting Galmudug remotely and through regular visits. In her remarks, Ms. Gbeho said the world body will continue to ensure its regular engagement and support pending the new office's opening.
Accompanied by electoral and political affairs experts, Ms. Gbeho also discussed a range of issues with the president and members of his cabinet, including cooperation between the United Nations and the Galmudug government in areas such as elections, policing, stabilization, human rights and more.
"We had the opportunity to touch base on several other important issues, including the ongoing drought that has brought hardship to the people of Galmudug, the military offensive against Al-Shabaab and the need for continued focus on Somalia's state-building agenda," Ms. Gbeho said.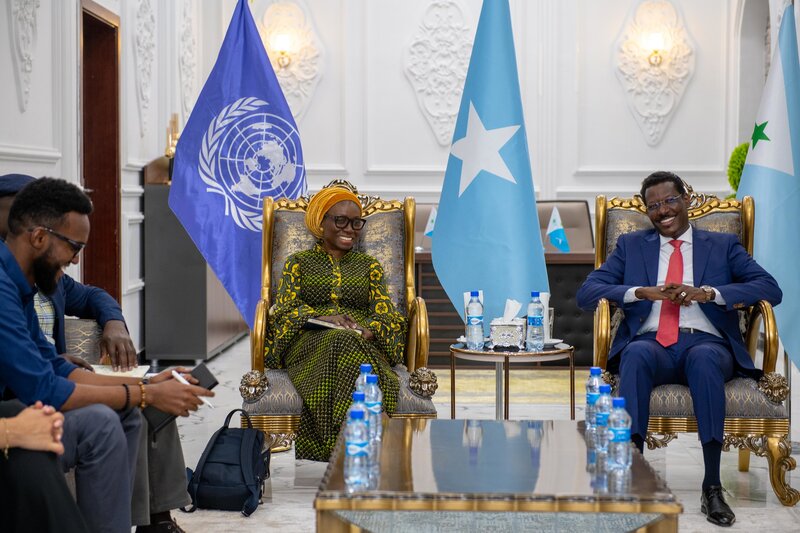 While in Dhusamareb, the Deputy Special Representative visited the site for the new office before taking part in a signing ceremony for the land agreement with President QoorQoor.
Currently, the UN has similar offices in the country's four other Federal Member States: Jubaland, South West State, Hirshabelle and Puntland.
To see more photos of the visit, check out our Flickr album here.