Young Somalis take action to mark International Youth Day
On August 12, as people from all over the world celebrated International Youth Day, hundreds of Somali youths took to the streets to take action and improve their communities in a clear demonstration of their relevance to peace and development in the country.
"If more than 70 per cent of the population in Somalia are under the age of 30, imagine what can be achieved if young people would come together for a day of action?" That was the slogan that mobilized young people in different cities to hold peace demonstrations and cleanup exercises, paint pedestrian crossings in main roads and plant trees, donate food and books. More than 15 activities were held in Adaado, Baidoa, Belet Weyne, Berbera, Bossaso, Galkayo, Garowe, Hargeisa, Kismayo and Mogadishu.  
"It is an important day for the youth to interact and work together towards the advancement of peace, security and development of the region," said Deko Abdi Ware, a young woman from Belet Weyne who joined her colleagues in a cleanup exercise.
With the relative peace and security in the country, Somali youth are using safe spaces to build networks and engage in skills enhancement activities. The youth in Hiiraan region are taking advantage of available opportunities to advance their agenda.
"Thirteen young people led the struggle for Somalia's independence. Today, we have to follow in their footsteps, unite our communities, while at the same time offer our services to make our environment better," remarked the deputy chairperson of Hiiraan Youth Organisation, Khadar Ahmed Abdulle.
In Garowe, with support from the Puntland Ministry of Youth and Sports, the United Nations Population Fund and other partners, young people came together to discuss the role of youth in building peace and preventing violent extremism. "I am a member of a youth group called Maslaxo, which means 'resolution' in English. Together with my teammates, we have presented a play on the rights of the youth. The play also discourages the youth from taking part in extremism and other bad practices," said Mohamed Abdullahi Ali.
"It is our day, and it is important for the youth to jointly speak up and talk about their issues," added Haredo Abdi Osman, also from the Garowe-based youth group Maslaxo.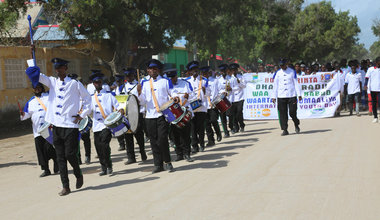 Led by the police brass band, the youth in Kismayo participated in a colourful procession on the streets of the city before converging on the town centre, where they were joined by officials such as the Jubbaland Minister of Youth and Sports to discuss the youth's contribution to peacebuilding and security.
"Somali youth need to be safe and secure and work hand in hand with the national security agencies to promote peace and security," noted activist Hawo Dakane.
In Baidoa, scheduled activities included a tree-planting exercise around the presidential palace. In his address to the youth, the advisor to the State Minister of the South West State Presidency Mohamud Sheikh Ahmed Warey lauded the youth in the Bay region for playing an effective role in promoting governance. "The youth in South West State are always ready to serve the country. The youth are pillars of governance," he said.
In Mogadishu, volunteer organizations donated food and beautified the city by painting zebra crossings and cleaning up streets. The Federal Minister of Youth and Sports Khadijo Mohamed Diriye in partnership with the Mayor of Mogadishu also hosted a festive reception that was attended by Prime Minister Hassan Ali Khayre.
The theme for this year's International Youth Day is 'Safe Spaces for Youth'. The United Nations underscores the importance of safe spaces where youth can come together, engage in activities related to their diverse needs and interests, participate in decision-making processes, and freely express themselves.
The Youth Day Celebrations in Somalia provided more proof that when young people have safe spaces to engage, they can meaningfully and effectively contribute to development, peace and social cohesion.