Zeinab Omar Ali: A woman of action advocating for Somali women's participation
Baidoa – The electoral process is usually a time of concerted effort for all who want to see a change in leadership.
Such was the case of Zeinab Omar Ali, Chairperson of the Bay Women Association Network (BWAN).
"During the most recent federal parliamentary election, BWAN assisted seven women in joining the two chambers of the Somali Federal Parliament. Two of them won senatorial seats while the other five won seats in the Lower House," says Ms. Zeinab.
"The task was not easy," she adds.
Ms. Zeinab hails from South West State where 15 parliamentary seats were reserved for women: two in the Upper House and 13 in the House of the People. BWAN members won seven of those seats as a result of the organisation's extensive campaign to raise awareness of the importance of women's representation. They lobbied local authorities – including clan elders and electoral management bodies, and even South West State's president – to ensure that none of the 15 seats was given to men.
Born organiser
In a way, Ms. Ali says, she was made for the role of an activist and organiser.
The 28-year-old was born and bred in Baidoa, the largest city in the Federal Member State of South West State. She completed her early education at the local Salahu-diin Primary and Secondary School, and it was there that her organising abilities started to show.
"I was the head girl throughout my high school years. My prime responsibilities were strengthening relationships between teachers and girls, and reporting on unnecessary activities that girls were engaged in that could lead to them dropping out. It also taught me leadership skills," she says.
Her organising abilities grew during her tertiary studies, which saw her enrolled in a bachelor's degree in Sharia law at Ganaany University, in Baidoa, starting in 2017.
"When I was in my second year of university, I came to the realisation that a number of college women were delaying the start of their classes, while others were dropping out of school altogether, owing to financial difficulties – so I rallied other students in my class, and we were able to pay the tuition and fees for those students who were eager to continue their education but were falling behind on payments," she recalls.
Inspired by the results, Ms. Ali started reaching out to other young women, as well as women activists, for other engagements in support of young women in South West State.
Soon after, her efforts coalesced into the formation of a new, more structured approach to her organising.
"I continued building an organisation that could advocate for improving the lives of youth and women in Baidoa on both a social and political level by reaching out to other colleges and gaining their support, and this led to the creation of BWAN in March 2018," she says.
In recognition of her drive and skills, BWAN's then-94 members appointed Ms. Ali as its inaugural chairperson.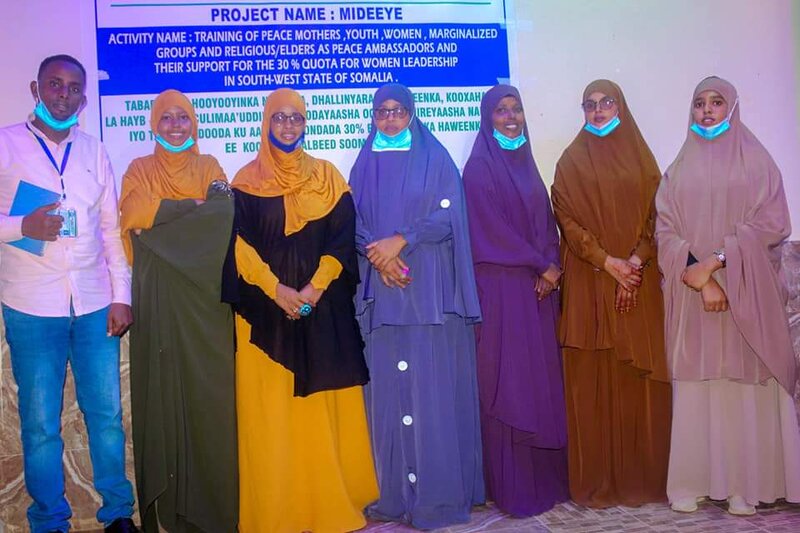 BWAN Chairperson
South West State's federal parliamentary electoral process was just one area of focus for BWAN. The organisation has also been heavily involved in advocating for women's participation and representation at other levels of government, including as an implementing partner for a 'Mideeye' (transl.: 'Unifier' in Somali) project run by Finn Church Aid (FCA), a Finnish rights-based, international aid organisation.
"We took part in the Barawe district council election in November 2021. We collaborated in the FCA on the Mideeye project, specifically lobbying for women's political representation via media campaigns," Ms. Ali says.
"We were able to bring on seven female district council members through collaborative efforts, and we intend to participate in the upcoming Wanlaweyn district council formation in the Lower Shabelle region."
BWAN's outreach and advocacy work has its challenges, including trying to change traditional views of the role of women.
"The elders of our clans are resistant to the idea of women and young people holding political posts. They are under the impression that if they grant a seat in parliament to a lady who is married to a member of another clan, they will lose all support for their own clan interests," notes Ms. Ali.
"However, they are totally mistaken. According to what we've observed in the past, South West State's female members of the federal parliament have provided more assistance to their communities in terms of having boreholes dug, building schools or creating public health posts for mothers and children than their male counterparts in the federal parliament," she adds.
The recent COVD-19 pandemic was another area in which BWAN was heavily involved. Partnering with the South West State Ministry of Health, it carried out campaigns in local communities through local radio stations and other public platforms, such as tea-shop areas and restaurants, to raise awareness of the need for the public to take on preventive measures, as well as to correct misconceptions about the disease.
"When the COVID-19 pandemic first broke out, many Somalis believed it was God's punishment for non-Muslims. That was completely incorrect," Ms. Ali says.
"Based on my experience and with the assistance of the BWAN public health team," she continues, "we were able to reach out to local communities, internally displaced people, school children, and rehabilitation centres to raise awareness and dispel misinformation."
UN and women
The electoral process completed earlier this year saw the number of women in Somalia's federal parliament drop from 24 in the last elections to 21 per cent this year.  This fell short of the goal of achieving at least 30 per cent.
According to the United Nations, gender equality and empowerment of women are fundamental in ensuring that peace and progress are equitable and that they benefit women and men equally while protecting the human rights of all without discrimination, biases, and prejudice.
The United Nations, through its agencies, funds and programmes, has supported women empowerment initiatives and has applauded Somali women for their unwavering efforts and enormous contributions to the country's peace, political stability, and development.
In establishing an inclusive, fair, and just Somalia, Somali women's political empowerment will be critical. This includes their participation in decision-making and at all levels of society.
With the new leadership in place, the role of women will be crucial to ensure that the parliament adopts an electoral legal framework that will guarantee the 30 per cent women quota representation.
There is also hope that the new leadership will appoint more women in all federal and state-level bodies to achieve gender equality for the peace and development of Somalia.