Ahmed Abdullahi Ahmed: Creating educational opportunities for disadvantaged communities
Mogadishu – Ahmed Abdullahi Ahmed believes in education. He believes in its power to transform the lives of his fellow Somalis and in its capacity to help transform Somalia.
His belief is grounded in his personal experience.
"Until I was older, I had no idea how tough it was for my parents to pay for my school fees and other necessary things for my education, such as books and uniforms, so I can easily appreciate the plight of people who did not even have parents who could afford to pay for their education, and this is what inspired me to work in educational development," Mr. Ahmed says.
The education activist was born in 1993, in the early years of Somalia's descent into civil war. The conflict meant his schooling was delayed.
At the age of nine, he was finally enrolled at the Al-Ma'mun Al-Azhar Primary School in Mogadishu. However, just five years into his schooling, he and his family fled the worsening violence in the capital and moved to Dhusamareb, the capital city of Galgaduud.
"I was disappointed, but I could not stop my dream of getting an education. I was eventually able to finish my high schooling in 2012 in Dhusamareb," Mr. Ahmed says.
The need for patience continued. Just as with his primary and secondary education, there was a further delay with his tertiary education – Mr. Ahmed had to wait three years before he could start university, partly because he was responsible for helping support his family, which he did by working in small business enterprises.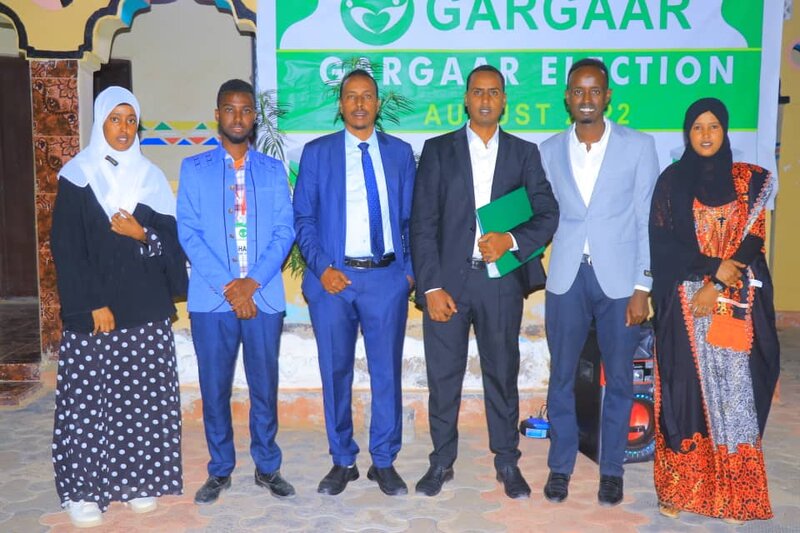 In 2015, he enrolled at SIMAD University in Mogadishu, graduating four years later with a bachelor's degree in public administration. He was able to afford the education thanks to his brother, who paid his tuition fees.
Reflecting on his education journey, he noted the one common thread throughout: a lack of financial resources to afford his education. At the same time, he was very aware that he was fortunate as, even though it was a struggle, he was ultimately able to graduate.
A vocation
While completing his studies, Mr. Ahmed also started teaching children living in camps for internally displaced people (IDPs) around Mogadishu.
"I began helping children who did not go to school, first and foremost with the basic skills of reading and writing," he recalls. "I felt that every time I taught a lesson I fulfilled a vital duty to society."
The experience helped shape his views. Upon graduating, Mr. Ahmed figured out his vocation: promoting education so that as many Somali children as possible would be able to access this life-changing experience.
So, in 2019, he returned to Dhusamareb. While in 2007 he and his family had fled there to escape the fighting in Mogadishu, this time it was a voluntary decision – he was determined to help his local community, inspired by his teaching experience with IDPs.
Mr. Ahmed established Gargaar (transl.: 'Help') in early 2020, a non-governmental organisation (NGO) dedicated to helping aspiring students, aged between five and 18, from disadvantaged and impoverished backgrounds.
"When I finished university, I returned to the city that saved my life and founded an organisation to help poor people, especially in rural areas and in IDP camps where there is no access to basic services, including education," he says.
The 29-year-old notes that, while the Galmudug school system may cater to the majority of the Federal Member State's students, there were many who cannot access formal education structures – such as young IDPs and members of other marginalised communities – and that was where Gargaar had a role to play.
Gargaar focuses on education and health. Made up of 33 staff, and boosted by many volunteers, the NGO does this by helping the disadvantaged with the cost of schooling and medical care, especially in rural areas and in IDP camps.
"In 12 areas that fall under Dhusamareb, we have assisted close to 1,000 students to achieve their educational dreams and also established several schools. We have supported teachers and provided them with resources such as training and salaries. So far, around 847 pupils – of which 321 are girls – have benefitted from our support," he says.
Support and recognition
The NGO's resources are limited, but with financial support from local residents of Dhusamareb, especially youth and civil servants, the organisation has been able to raise enough funds for its projects.  
"We receive a small amount of money from the people in the surrounding areas, from government officials and from the Ministry of Education. We also get donations from the schools' neighbours who also devote their time to help manage the schools," says Mr. Ahmed.
In addition to financial support from the local community in Dhusamareb, Gargaar also benefits from a network of committed volunteers.
"The idea of promoting education in rural areas and IDP camps that led my friends and I to start Gargaar in 2019 now attracts 164 young people who willingly participate in the organisation's activities. They come on separate days and help in various ways, including motivating teachers and sometimes participating in teaching students," Mr. Ahmed says.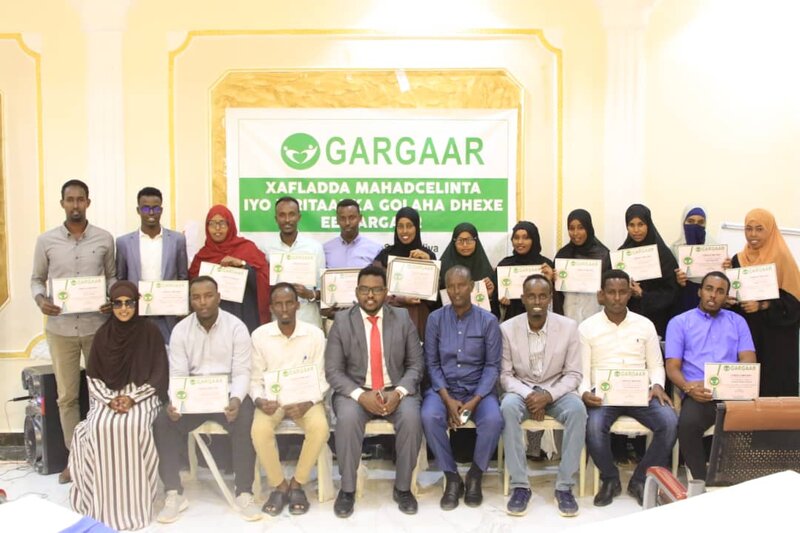 The NGO's efforts have been recognised locally.
"Gargaar is a youth organisation that is a pillar for the development of education in Galmudug. It is providing a much-needed service in the field of education – it is hard to find such dedication," says Galmudug's Minister of Education, Mohamed Hashi Dhore.
Gargaar's success in educational outreach to young people in Dhusamareb's marginalised communities has led to further approaches. In 2020, Galmudug's Ministry of Health invited Gargaar to work together on health promotion activities in the city.
Mr. Ahmed and his collaborators did not hesitate in joining since, he says, "from our interactions with people of different communities we knew we could guide the government towards where services were needed most."
The relationship has since blossomed.
"In 2021, with the support of Galmudug's Ministry of Health and youth volunteers, we succeeded in building and equipping the first maternal and child health centre in Dhusamareb, with Care International paying the salaries of those working at the centre," says Mr. Ahmed. "We now employ up to nine health workers and aim to double that number by this coming year."
"We hope that our work will soon spread through the entire Galmudug State," he adds.
Education for youth
The United Nations believes that quality education equips children to succeed in life, providing them with life skills to take care of themselves and fulfill their potential. In addition, upholding the right to education promotes normalcy and can give hope for the future, not only for children but also for their families and communities.
However, for many children in Somalia, going to school and receiving a good education is still a dream out of their reach.
More than three million children in Somalia are out of school. In many areas across the country, parents are not able to fund their children's education. In addition to poverty, long distances to school, safety concerns, social norms favouring boys' education, marginalisation and lack of teachers, particularly female teachers, and the low availability of sanitation facilities stop parents from enrolling children, especially girls, in school.
Children in nomadic pastoralist communities are constantly on the move and often denied their right to an education. The ongoing conflict and natural disasters also continue to displace children and families, making it very difficult for them to continue schooling.
The UN Children's Fund (UNICEF) works closely with Somali educational authorities to improve children's access to schools, enhance learning and skills and ensure that children in emergencies and on the move are protected and have opportunities to access education.