Protecting displaced Somalis from gender-based violence highlighted at roundtable discussion
Mogadishu – The importance of protecting internally displaced women and children from gender-based violence was highlighted today at a United Nations-supported roundtable discussion in Mogadishu.
Organised by the Organisation for Somalis Protection and Development (OSPAD), the event aimed to raise awareness about sexual and gender-based violence among internally displaced people (IDPs) in Somalia, and encourage survivors to seek assistance. It was part of the activities held to mark the recent 16 Days of Activism against Gender-Based Violence campaign that ended on 10 December.
"It is critical to raise public awareness of sexual and gender-based violence," said Fardosa Abdi Mohamud, a Human Rights Officer with the United Nations Assistance Mission in Somalia (UNSOM). "A lack of knowledge, however, hinders the creation of awareness. There are a number of challenges survivors face, including not knowing where to seek services and facing difficulties in identifying the perpetrators."
The roundtable discussion was attended by 70 participants representing communities living in IDP camps, civil society organisations, and traditional elders within the Banadir region, all of whom shared views, challenges and solutions to address gender-based violence in their communities. 
In their exchanges, participants agreed that gender-based violence remained a major issue in Somalia, with cases under-reported because survivors rarely speak out. They also focused on how the UN and other organisations can protect and support those who have been harmed in their communities.
Views and challenges
In her remarks to the gathering, Farah Ali Farah, a community leader in the Galad IDP camp located in the Kahda district of Mogadishu, noted that a lack of security was a major concern for women and children living in the camp.
"Sexual and gender-based violence issues arise in IDP camps due to prevailing security challenges, and we work closely with local security agencies and authorities to address these," she said. 
Amina Mohamed Dhurow, the Deputy Chairperson of the Somalia Association Female Disability, noted that disabled women face difficulties due to a lack of awareness in society, and that the traditional justice system, known as 'xeer' in Somali, prevents survivors from seeking justice. 
"Xeer enables families to negotiate and pay a financial settlement for sexual violence," Ms. Dhurow said. "It is not widely understood that women with disabilities are more at risk of sexual and gender-based violence. Facilities are not designed to make it easier for persons with disabilities to move around."
Comic book launched
The gathering also served as a launch for a Somali comic book on gender-based violence. Its narrative helps guide survivors access to psychosocial support, as well as police reporting procedures to seek formal justice.
The book was "part of a survivor-centred approach that enables survivors to get services such as psychosocial support, medical care, and legal assistance, if they need to report the case to the police, and it shows what they can do to find that support," Ms. Mohamud said.
Addressing the event, the UN official encouraged survivors to seek assistance from civil society organisations that operate family shelters in IDP camps, and to report cases to the police so that alleged perpetrators could be held accountable.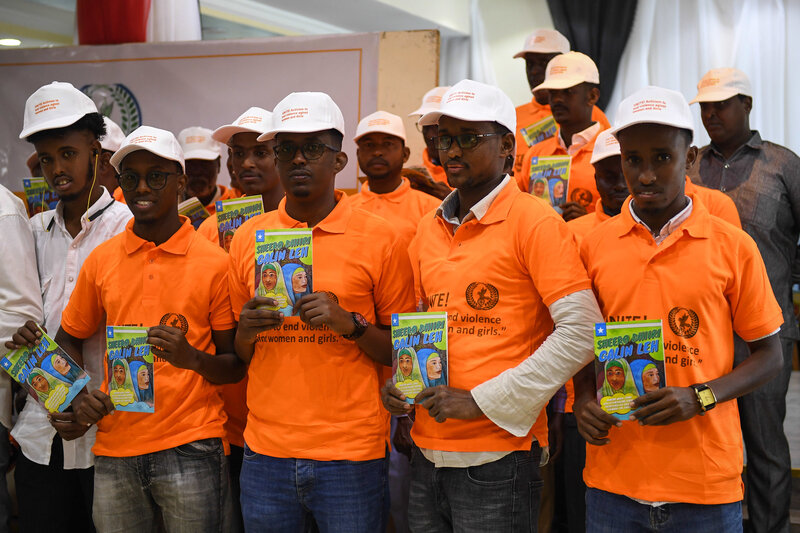 16 Days
The annual 16 Days of Activism against Gender-Based Violence campaign, which runs from 25 November, the International Day for the Elimination of Violence against Women, to 10 December, Human Rights Day, is a reminder of the unfinished work to realize gender equality, peace, and security for all, in every sphere of life, including in public and political spheres. During the campaign, the UN joined hands with the Somali government and civil society organisations in advocacy and awareness-raising activities to address violence against women and girls.
In a message to mark the start of the 16 Days, the United Nations in Somalia called for a redoubling of efforts to prevent and address violence against women and girls. 
"The ongoing humanitarian crisis and conflict in Somalia have displaced large populations and put women and girls at greater risk of violence, including sexual violence. Gender-based violence and conflict-related sexual violence severely impact on the right to life, livelihoods and dignity of women and girls," said the UN Secretary-General's Deputy Special Representative for Somalia, Anita Kiki Gbeho, who also serves as the Officer-in-Charge of UNSOM.