In Hargeisa, UN envoy calls for calm and dialogue following clashes
The top United Nations envoy for Somalia has called for calm and dialogue amid reports of clashes between security forces from 'Somaliland' and neighbouring Puntland.
"Our position is to try and reduce tensions (and) to increase dialogue very quickly between both sides, so that if there are misunderstandings, these are clarified," said the Secretary-General's Special Representative for Somalia, Michael Keating, while in Hargeisa, the capital of 'Somaliland.'
"If there are genuine differences, then they have to be subject to immediate discussion," he added. "But resorting to military solutions and to violence is not the way to resolve these problems."
The UN envoy was speaking at a joint press encounter yesterday with 'Somaliland's' Foreign Minister, Saad Ali Shire, after having met with 'Somaliland's' President Muse Bihi Abdi – their first meeting since the latter was elected late last year.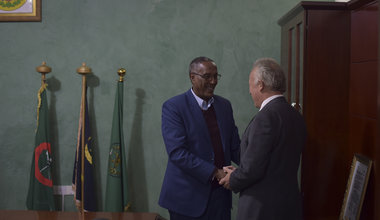 Earlier this week, there were reports of clashes between security forces in the Sool region, part of a disputed area claimed by both 'Somaliland' and Puntland, located on the north-eastern tip of the Horn of Africa.
In their meeting, Mr. Keating and Mr. Bihi Abdi discussed the new government's priorities, as well as the latest security issues.
"I was very impressed by and grateful to the President for his commitment, borne from his many decades of personal experience, of the importance of finding peaceful solutions to problems, " he said, "and that a priority must be to try and prevent violence of any kind, whether in 'Somaliland,' or, indeed, between 'Somaliland' and others."
While in Hargeisa, the UN envoy also met with several cabinet ministers to discuss various topics, including education, health, security, the impact of drought and employment, and how the United Nations can best provide support in addressing humanitarian and development challenges in these areas. Similar meetings were subsequently held with civil society representatives.
Part of the mandate of the UN Assistance Mission in Somalia (UNSOM) – which Mr. Keating also heads and which has an office in Hargeisa  – is to support 'Somaliland' efforts towards a politically stable and democratic system that adheres to the principles of good governance.
Visit to Laas Geel highlights rich heritage and economic potential
The Special Representative also visited the Laas Geel rock shelters, located an hour north-east of Hargesia, and the location of Neolithic paintings dating back several thousands of years.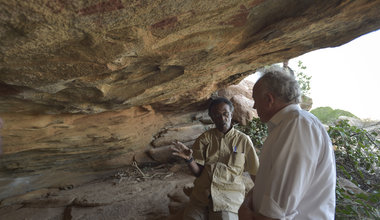 "One of the reasons I wanted to come here is because it's good to be reminded that (while) the image of this part of the world is about conflict and so much despair and suffering, and yet it's also one of the cradles of civilization," Mr. Keating said.
"So while it's a resource for the world, it's also very important for Somalis to know that they are living in a land with great history and traditions and that is changing and is dynamic," he added.
French researchers came across the site during an archaeological survey of the area in 2002, and it is considered to be one of the oldest rock art sites in Africa and the most important ancient site in 'Somaliland.' The paintings depict wild animals, decorated cattle and herders,.
According to local authorities, up to 200 visitors, from the region and abroad, make the trek to the site each month, despite access difficulties and concerns over security.
"That would suggest that the potential is indeed enormous, and not just limited to rock caves, " said Mr. Keating. "There's the natural environment, the coast and the beaches are incredible, the potential for tourism is enormous."
There have been concerns over recent years that the site's paintings are under threat of serious deterioration from their exposure to the elements as well as local animals.
The UN Educational, Scientific and Cultural Organization (UNESCO) sent a team to review the site in 2016. It has made recommendations on how to best safeguard it, and is working with local authorities on putting those measures in place.