Hassan Mohamed Elmi: Leaving a comfort zone for a challenge to help Somali youth
Hassan Mohamed Elmi is passionate about youth empowerment and what it can do for Somalia.
He believes peace and stability in his country can only be achieved if young Somalis are part of the federal and state governments' development plans and programmes.
"We cannot achieve much without youth participation," says the 29-year-old. "They are significant because they constitute over 80 per cent of Somalia's population – if they are empowered they can bring positive change."
 Though born and bred in Mogadishu and a graduate of its Simad University, Hassan decided to leave his comfort zone in the capital city and move to his ancestral home in Belet Weyne, in the central Somalia region of Hiiran, to work with other young men and women, many of whom had lost hope in the country's future.
"After graduating, I decided to go back to my native home to help uplift the lives of my fellow youth even though I knew it will not be an easy task. It was the right thing to do," he says.
In Belet Weyne, Hassan teamed up with other like-minded youth to establish Hiil Deegaan, which in English means 'Promote Your Environment,' to help young men and women realize their potential.
"The training and activities we organize are helping them regain their lost self-esteem, identify their goals in life and work and towards achieving them," states Hassan, who serves as the chairman of Hiil Deegaan.
He believes that youth involvement in activities which promote their well-being can help them avoid falling prey to radicalization and violence. For this, the organization uses sports not only to occupy the spare time of local youth, but also to educate them on the importance of maintaining peace and security.
"Games like football allow them to socialize and discover their potential – these kinds of activities enable them to stay away from crime," says Hassan.
Hassan's views on sport dovetail with those of the United Nations, which has advocated for the power of sport to bring about goodwill and positive social outcomes, given its potential to bridge cultural understanding, improve education, health and economic and social development. 
So far, Hiil Deegaan has – through sports and other activities – managed to reconcile groups of young men in Belet Wayne who were involved in regular violent confrontations.
"Young men from the east and west of Belet Weyne, who belong to different clans, used to clash frequently, threatening security in the area. However, after numerous engagements, we finally managed to reconcile them," says Hassan, adding that residents in the area are now living in peace.
Apart from organizing sports events and various training programmes, Hiil Deegaan is also involved in humanitarian work as a way of promoting good neighbourliness.
Recently, for example, the team organized a rescue mission in Belet Weyne to evacuate residents marooned by raging floods and also rallied members of the public well-wishers to donate food and other supplies to victims.
"Peace is also about good neighbourliness, that is, caring for those in need," says Hassan. "Such acts strengthen social cohesion and unity among communities."
However, like many other small non-governmental organizations involved in peace initiatives, financial constraints remain a major challenge for Hassan and his colleagues, although they remain determined with their goals.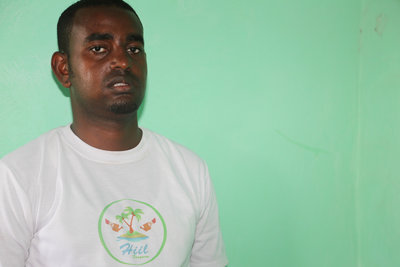 "Lack of finance has been a challenge for us, and to some extent limited our activities. We have to do with what we have because every positive change counts," he adds.
The United Nations has recognized the role that youth can play in international peace activities. This includes the adoption by the Security Council in 2015 of an historic first-ever resolution on youth, peace and security.
The resolution emphasized the importance of youth as agents of change in the maintenance and promotion of peace and security. Also, it highlighted participation, partnerships, prevention, protection and disengagement and re-integration as five pillars for action related to young people's contribution to peace processes and conflict resolution.