Muna Mohamed Abdi: Helping include marginalised communities in Kismayo
Kismayo – Somali society can sometimes be characterized by clan-based divisions, inequalities and exclusions.
In these situations, the country's marginalized groups face discrimination and struggle to exercise their rights to participate in economic, social, cultural and political processes. This marginalization leads to unfair and discriminatory distribution of resources, and it can be difficult for young Somalis from some of these marginalized groups to achieve their full potential in life.
Muna Mohamed Abdi is one young Somali from a marginalized group who is making strides in this respect.
With the support of her family and much hard work, the Jubaland resident has been able to progress, achieving things which many marginalized youth cannot due to the aforementioned challenges.
Born in 1998 in Kismayo, the largest city in the southern Federal Member State of Jubaland, Ms. Abdi was the second child in a family of five children. In her community, education for young girls and women was rare, but she was fortunate in that her parents were keen to have her educated and made this a priority throughout her upbringing. 
She attended Kismayo's Fanole Primary and Secondary School from 2008 to 2018, after which she continued her studies with a business administration degree at Plasma University, complemented by training as a teacher at the Jubaland Teachers Training College. She graduated from the latter in September 2022.
But her experiences growing up impacted her in a way that had her thinking beyond her own career path.
"Sometimes it felt as though we did not belong anywhere, we were excluded from most activities and nowhere felt like home," Ms. Abdi says.
These feelings prompted her – as one of the few educated women in her immediate community – to embark on a second career of sorts. She became an advocate for marginalised communities in Kismayo, encouraging greater social inclusion and participation in Somali culture, and an end to discrimination and exclusion. 
"Marginalised communities are always excluded from political participation, employment, access to opportunities, and even justice – I could not sit back and watch the status quo continue. I had to speak out and question the deeply entrenched social hierarchy and structural inequalities," Ms. Abdi says.
"No one is going to tell you what you deserve unless you step up and fight for it," she adds. "We have to ask, knock on doors, and fight for it. Otherwise, we will continue to be marginalised."
Volunteer work
Ms. Abdi's determination to break down barriers and fight exclusion led her to becoming a volunteer as she believed this would be a suitable path to help raise wider awareness of the role and contributions made by Somalia's marginalized communities. The reasoning here was that small and frequent inclusive initiatives at the local level lay the foundation for bigger activities to bridge existing gaps between advantaged and marginalised communities.
In 2021, while pursuing her university education, the 25-year-old activist volunteered with Jubaland's Ministry of Youth and Sports, where she was part of the team that oversaw the planning and organising of a series of capacity-building workshops for youth from marginalised communities. The workshops were part of the Ministry's efforts to bring about social integration and narrow the gap of marginalisation through teaching life skills and supporting socio-economic activities for local youth.
"Young, educated people from these communities like me need to volunteer to stand up for these people and raise awareness so that they can speak up and come out of the dark rooms that they are inadvertently forced into," Ms. Abdi says.
Ms. Abdi's volunteering expanded to other areas. As a member of the local Fahan Youth Group, she took part in beach clean-up activities in Kismayo.
"This initiative showed the public that we need to take action to improve our environment, but it was also an opportunity for the marginalised to take part – the marginalised are excluded even from community activities, so this was a change," she says.
Ms. Abdi's enthusiasm and determination have been noted and praised locally.
"Because she fights for a just society, free from prejudice and tribalism, she was one of five people chosen by the Ministry of Youth and youth groups to represent Jubaland as peace champions in Kismayo," says the team leader of the Fahan Youth Group, Bashir Hirsi Ali.
"We have high expectations for her continued success in breaking barriers and fostering unity among communities," he continues. "She will have our unwavering support."
New job, same cause
At the start of 2022, Ms. Abdi started working with the Jubaland Ministry of Fisheries and Marine Resources as a data collector. She was eventually promoted to a secretarial position in the ministry.
While some may have focused on their own career path, the 25-year-old also saw her workplace through the prism of marginalized communities. She began to encourage marginalized youth to make the most of opportunities in the Federal Member State's maritime sector.
"I noted that there are marine resources that can help alleviate the joblessness that youth from marginalised communities face, and I wanted to change that. These youth can benefit as much as their advantaged or privileged counterparts," Ms. Abdi says.
With an extensive coastline of around 3,300 kilometres and positioned at a strategic location on critical global shipping lanes, Somalia's maritime sector, with its abundant aquatic resources, is regarded as having enormous economic potential.
Including the maritime sector, Ms. Abdi sees opportunities in the growing economy of the country and urges all Somali youth to seize opportunities, especially in the maritime sector, describing it as a much better option than leaving the country on 'tahriib' – as Somalis call the often-dangerous journeys using people smugglers to reach foreign shores – for a better life abroad.
"They just need to be encouraged to do so, which I continue to do, and now we are seeing an increase in the number of youth from marginalised communities willing to take up opportunities here in Kismayo," she says.
Ms. Abdi highlights the connection between marginalisation and poverty with various examples.
"While it is often seen as shameful for a raped woman to report the case to the police, it is worse for women from marginalised communities because their cases tend to be ignored," says Ms. Abdi.
"Young shoe shiners [in Kismayo] from marginalised communities tragically find themselves excluded from educational opportunities," she continues. "This is the devastating impact of marginalisation, as it perpetuates a cycle of poverty and denies vulnerable children the chance to access formal education."
In her eyes, the way forward is clear.
"This is a status quo that needs to change – it is us who can speak up to voice the concerns of these people and advocate for their plights to be addressed," Ms. Abdi says. "Unless there are systemic changes to address the existing marginalisation in the country, the potential of many young generations will be wasted."
"I believe that everyone deserves to have a voice and to participate in the decisions that affect their lives," she adds, "and I will continue to advocate and raise awareness on this and encourage my community to play an active role in public spheres. Change must happen."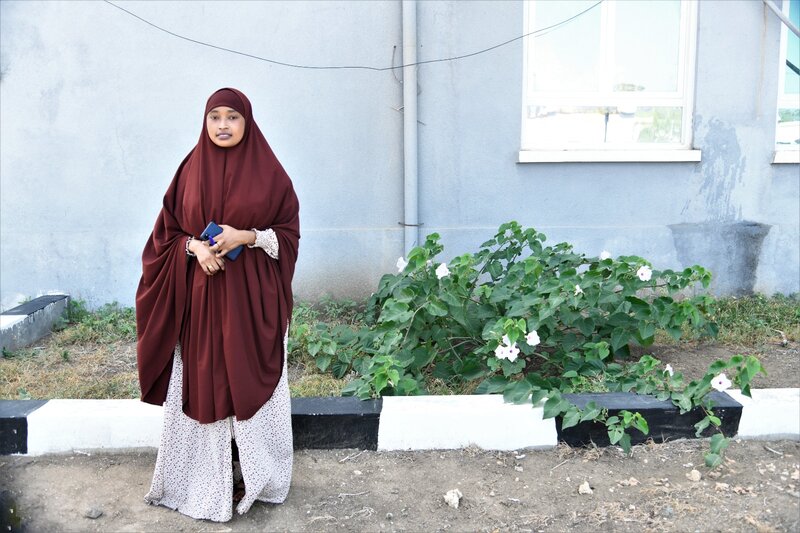 UN support
In Somalia, the United Nations supports efforts to create deeper public understanding on the rights of minorities and marginalized communities in Somalia and to encourage governments and civil society organisations to advocate for their rights.
In Ms. Abdi's home Federal Member State of Jubaland, this support includes a mapping exercise of such groups with the aim of helping humanitarian organisations better target those in need of aid; and supporting civil society organisations representing minorities to promote human rights and enhance their engagement with government authorities, journalists, youths, and women groups.
The support also includes assisting the Federal Government of Somalia with a programme to build resilience among almost 25,000 disadvantaged and marginalized households. Funded by the Government of Germany, this ongoing 50 million euro programme aims to improve access to education, health, hygiene and nutrition for children and adolescents and enhance food security among disadvantaged households.
The third phase of the programme began in 2021, managed by the UN Children's Fund (UNICEF), the World Food Programme (WFP) and the Food and Agriculture Organization (FAO), and implemented by various federal ministries, the Jubaland Government, district and local authorities, and non-governmental organizations.