One brush stroke at a time: Vibrant Puntland artist guides young talents
When we met Leila Ali Abdullahi, she was busy guiding the sketching efforts of three young art students in a studio filled with draft paintings, color palettes and pencils. Artist, art entrepreneur and mentor, Leila believes that art is about creating and inspiring others to create, and that it can bring about greater peace and tolerance.
"Arts create a stable environment, in which a person can feel inner peace, and interact better with others. Arts help us to better integrate and encourage collective problem-solving," says Leila. 
After completing her art and design studies in Europe, Leila moved to the Puntland capital of Garoowe, where she advocates for a better understanding of the positive role that culture can play in society. She emphasizes that art can be used as a powerful tool to raise awareness, empower young people, and restore Somalia's prestige in the world.
"Children and youth need to freely express themselves, and this can be done through arts," argues Leila. "Arts should be incorporated in the national curriculum, so that children would build a better society in the future. Drawing discourages violence."
With this vision, Leila established in 2013 her own organization called Waves of Somali Innovative Arts (WOSIA), which helps young Somalis discover and develop their artistic skills.
"I make routine visits to schools and ask principals to select students who are good at drawing, and then I offer what are called 'mobile art classes.' WOSIA is now the best known art institution in Puntland, and one of our biggest achievements is that we encourage girls to draw and paint," she explains.
As is the case with many artists around the world, Leila's success has not come easily.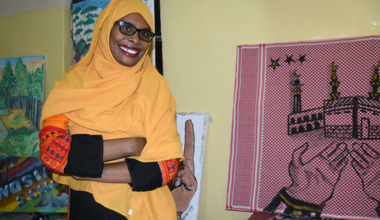 "In college, I was the only Somali girl to study arts and design, and some people tried to discourage me, saying that I should have chosen other subjects. But later they accepted and my education ended fruitfully," she recalls.
The biggest challenge, Leila says, comes from people who do not understand her work and have no appreciation for it. 
"Many people have looked at my arts and design career from a religious perspective, and reprimanded me for drawing animals and people. But I am hopeful that with time, people learn to appreciate our drawings," she adds. 
Leila recognizes that art is often a poorly paid profession in Somalia, and she encourages her students to produce high quality drawings that can be published or used in office or residence design.  
"I also teach my students to find innovative ways to promote their art. For example, social media helped me reach out to people and communicate about my art," recalls Leila.
Leila's next big project is the launch of an annual event, the WOSIA Art Fair, to promote arts and culture in Somalia, especially among girls and boys.
"I am preparing and encouraging the future artists of this nation, and am very proud of it," concludes Leila.