Somali information ministry: more alignment needed between government and international partners on public awareness programmes
Mogadishu, 20 August 2019 – Greater alignment and coordination of communications efforts in Somalia, and the benefits of such cooperation, were among the main points of discussion at a gathering of Somali and international communicators today.
 
"We would like our international partners to follow the set policies and guidelines of the Ministry of Information, [which is] responsible for guiding and setting policies of public awareness activities in Somalia," the Federal Minister of Information, Culture and Tourism, Mohamed Abdi Hayir 'Maareeye,' said at the gathering.
 
Mr. Hayir noted that some international agencies working on public awareness activities in Somalia had not been following established government policies and strategies.
The minister was speaking in the capital, Mogadishu, at a consultative meeting with representatives of international organizations and firms that are working on media and public awareness programmes in Somalia. Those attending included representatives from the United Nations system, the African Union, foreign embassies and private companies.
Today's meeting is part of a four-day long consultation organized by the Federal Government of Somalia's Ministry of Information, Culture and Tourism (MOICT), and attended by the information ministers from several of the country's Federal Member States, including the Ministers of Information from Puntland, South West State, Galmadug, Hirshabelle – Ali Hassan Ahmed, Hassan Mohamed, Mohamed Aden Osman and Abdiweli Mohamed Abdi – in addition to various officials these states and Jubaland.
 
Support for public awareness plan
 
In his remarks to the gathering, the federal minister appealed to international partners to support the implementation of the country's media and public awareness strategy, which seeks, among other goals, to counter negative narratives and aid efforts to restore peace and stability.
 
In February this year, the MOICT launched the three-year plan – known as the 'National Strategy for Public Awareness 2018-2021' – which is centred on coordinated and aligned public awareness campaigns by Somali authorities, media houses, civil society groups and international partners.
 
A senior MOICT advisor, Abdirahman Mohamed Aden 'Koronto,' outlined to the gathering the ministry's policies, strategy and guidelines.
 
"These are all meant to promote transparency," he noted. "If you are doing something in Somalia, let's see what you are doing. As authorities at the federal and member state levels, we have to know what you are doing, how are you doing it, and how you achieve what you are doing."
 
"There must be a mirror where we can see that everything is in line with what you are doing," he added. "The Ministry of Information is not interfering, but it needs to have oversight."
 
Partners welcome meeting
 
Speaking on behalf of the UN Assistance Mission in Somalia (UNSOM), the Chief of its Strategic Communications and Public Affairs Group, Carlos Araujo, welcomed the meeting and its aims.
 
"Without coordination and collaboration, unity of messaging, accountability, and knowledge of the local context, national public awareness campaigns are bound to fail – this is why this meeting is so crucial," Mr. Araujo said, adding that strategic communication can play a vital role in promoting broader public understanding and endorsement of government policies.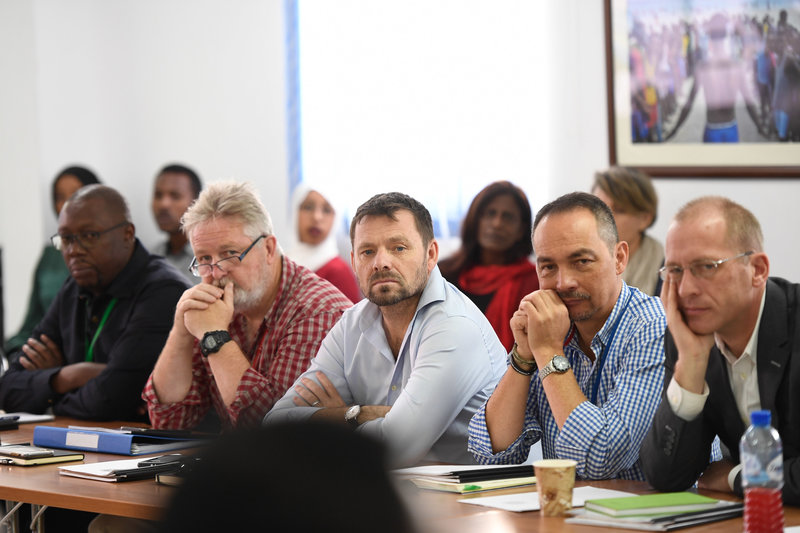 A senior communications official from the African Union Mission in Somalia (AMISOM), Gifty Bingley, echoed Mr. Araujo's sentiments: "We hope to work collaboratively with the government. This is a welcome meeting."
 
In his comments to the meeting, a Mogadishu-based communications consultant, Abdurahman Osman, highlighted that improved collaboration among the MOICT and its international partners would help support efforts to rebuild Somalia's image as the country emerges from decades of instability.
 
"We have got a negative image, and the way to fight it is to present our positive side and highlight it and do it as best as we can," said Mr. Osman.
 
Today's gathering came to an end with the announcement of plans to hold technical-level meetings between government and international partner communicators on a regular basis in order to discuss the alignment and implementation of public awareness programmes and review ongoing projects.